Republican legislators are gumming things up in Maine and Virginia, a big coalition calls for preserving the drug czar's office, Amnesty International warns the Philippines, and more.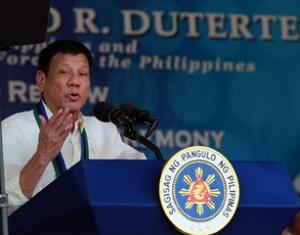 Marijuana Policy
Maine Republicans Set to Delay Adult Use Sales. With a moratorium on legal marijuana sales set to expire Thursday, the state GOP is moving to push back the date legal sales can begin. The Senate Tuesday approved Republican Sen. Roger Katz's bill to delay sales until the spring, but Republican House Leader Ken Fredette is calling for a delay in recreational sales until next year. Gov. Paul LePage (R) has also been an obstacle to implementing the will of the voters, who approved legalization in November 2016, some 14 months ago now.
Virginia Senate Republicans Kill Decriminalization Bill. Nine Republicans on the Senate Courts of Justice Committee voted Monday to kill Senate Bill 111, which would have decriminalized the possession of small amounts of marijuana. The Senate action followed action in the House, where Republicans already killed a similar bill.
Asset Forfeiture
Idaho Civil Asset Forfeiture Reform Bill Filed. The House Judiciary and Rules Committee is taking up a bill that would reform, but not eliminate, civil asset forfeiture in the state. The bill would prevent forfeiture in cases of simple drug possession and would prevent forfeiture of large quantities of cash unless there is evidence of criminal activity. The measure is RS25826, which is not yet available on the legislative website. A similar bill passed the legislature last year, only to be vetoed by Gov. Butch Otter (R).
Drug Policy
Coalition Calls for Trump Not to Gut Drug Czar's Office. More than 150 groups have signed onto a letter sent Monday to the White House opposing the Trump administration's proposed plans to radically cut funding the Office of National Drug Control Policy (ONDCP -- the drug czar's office) and move its grant programs to other agencies. The move would "create an unnecessary distraction from efforts to save our lives," the groups said. Signatories include groups from the prevention, treatment, recovery and criminal justice communities, and more. "Not only would such a move drastically weaken these vitally important programs, and force them to compete for priority, direction, and funding in larger agencies with competing and higher priorities, but it would significantly impact ONDCP's ability to effectively carry out its mission," the groups, led by the Addiction Policy Forum, wrote.
Harm Reduction
New York Activists Press Lawmakers to Approve Safe Injection Sites. Drug policy reform advocates gathered in Albany Monday to urge lawmakers to act on a bill that would allow for the creation of safe injection sites in the state. Legislation was filed last year by Assemblywoman Linda Rosenthal (D-Manhattan), but never acted on. If state Sen. Fred Akshar (R-Binghamton), head of the Senate Heroin Task Force, has his way, it won't be acted on either. "Our state dollars should not be going to a facility that is allowing people to continuously inject drugs," he told the New York Daily News.
International
Amnesty International Demands Philippines Hold Police to Account for Unlawful Drug War Killings. Responding to news that the Philippine National Police have resumed their role in waging President Duterte's bloody war on drugs, Amnesty International warned that police killers must be held to account. "The Philippines neither can nor should try to solve its drug problems at gunpoint," said James Gomez, the group's director for Southeast Asia and the Pacific. "Since President Duterte came to power, police have unlawfully killed thousands of people, the vast majority of them from poor and marginalized communities, in attacks so extensive and brutal they may well amount to crimes against humanity. Now that police are once more returning to the forefront of anti-drug operations, the government must make sure that there is no repeat of the bloodshed seen during the past 18 months."
State Department Drug Agency Vows to Support Duterte's War on Drugs. The State Department's Bureau of International Narcotics and Law Enforcement Affairs ("drugs and thugs"), says it will continue to support the Philippines drug war. "We are aware that the police are continuing the resumption of their operations. Many folks have been tracking the EJKs (extrajudicial killings) and the Philippines. There are some [encouraging things] that were seen, some of our human rights training [is] working and so I would describe [the] United States being cautiously optimistic... when it comes to a good, appropriate way of [carrying out the anti-]drug campaign," Deputy Assistant James Walsh said in a Tuesday press briefing. "And so we'll just monitor that and we'll continue supporting the government of the Philippines with our rule of law, our demand reduction programs and our maritime assistance," Walsh added.