The attorney general's war on marijuana proves unpopular, legalization proves popular (again), Vermont moves forward on a legalization bill, and more.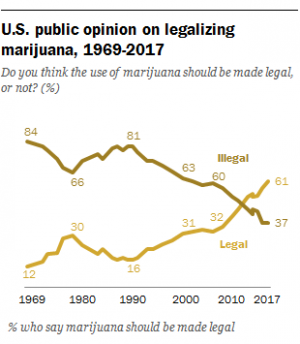 Marijuana Policy
Sessions' Marijuana Shift Generates Bipartisan Opposition. Attorney General Sessions' announcement that he was rescinding Obama-era guidance to federal prosecutors to generally leave state law-abiding marijuana operations alone, has ignited a firestorm of opposition, including high-ranking Republican elected officials. Among them are Sens. Cory Gardner (R-CO) and Lisa Murkowski (R-AK), both representing legal pot states, and Rep. Matt Gaetz (R-FL), representing a medical marijuana state. Less surprisingly, Democratic senators and representatives, as well as state government officials, have also denounced the move.
New Pew Poll Finds Six in 10 Americans Support Legalization. A Pew poll released Friday has support for marijuana legalization at 61%, nearly double the 32% who supported it only seven years ago in 2010. All demographic groups reported in the poll had majority support for legalization, except for two: Republicans at 43% and white evangelical Christians at 38%.
Vermont House Passes Legalization Bill (With No Sales). Ignoring the hubbub emanating from the nation's capital, the House on Thursday approved a bill that would legalize the possession and cultivation of small amounts of marijuana, but would not allow taxed and regulated sales. Instead, a task force appointed by the governor would study the issue and report back by December 15. The measure, House Bill 511, now goes back to the Senate, which already approved it last year. Gov. Phil Scott (R), has said he is comfortable with the bill and has signaled he will sign it. That would make Vermont the first state to legalize pot through the legislative process.
Medical Marijuana
Three Kettle Falls Five Members See Convictions Vacated, Charges Dismissed. Three members of a Washington state family prosecuted for growing medical marijuana for themselves have seen their convictions vacated at the request of federal prosecutors. The feds said congressional bans on using Justice Department funds to go after state-legal medical marijuana programs made it impossible for them to continue with an appeal.
Oklahoma Will Vote on Medical Marijuana Initiative in June. Gov. Mary Fallin (R) announced Thursday that a medical marijuana initiative will go before the voters during the June 26 primary election. The initiative will be Question 788 on the June ballot. It would create a full-fledged state medical marijuana system, and patients would be allowed to grow up to six mature plants themselves.
International
Turkish Interior Minister Says Police Should Break Drug Dealers' Legs. In the latest iteration of 21st Century drug war thuggery, Turkish Interior Minister Suleyman Soylu has called for the imposition of physical violence on some drug sellers. "If a dealer is near a school, the police have a duty to break his leg," he said. "Do it and blame me. Even if it costs five, 10, 20 years in jail -- we'll pay." Well, hey, at least he isn't calling for them to be killed, as in Malaysia, or actually killing them, as in Indonesia, and to a much greater extent, the Philippines.