It took him a year, but Attorney General Sessions has now torn up the Cole memo, opening the way for a renewed federal war on marijuana. Vermont legislators are advancing a legalization bill anyway, New York's governor calls for criminal justice reforms, and more.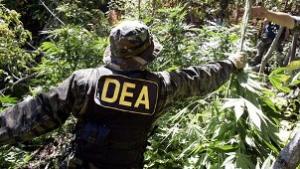 Marijuana Policy
Sessions Opens Door to Renewed Federal War on Marijuana. Attorney General Jeff Sessions announced Thursday that he had rescinded the Obama-era Cole memo, opening the way for federal prosecutors to go after marijuana in states where it is legal. The Cole memo, which directed prosecutors to take a laissez faire approach to state-legal marijuana except for specified circumstances (violence, diversion, use by children, etc.) undermines "the rule of law," Sessions said in a statement. "Today's memo on federal marijuana enforcement simply directs all US attorneys to use previously established prosecutorial principles that provide them all the necessary tools to disrupt criminal organizations, tackle the growing drug crisis, and thwart violent crime across our country," he said.
New Hampshire Legislature Postpones Vote on Legalization Bill. The House voted Wednesday to postpone until the next calendar session a vote on a marijuana legalization bill, House Bill 656, because one of its chief proponents was out of the country. The bill would allow for personal possession and cultivation of small amounts of marijuana, as well as setting up a system of regulated and taxed sales.
Vermont Legalization Bill Moving Forward Fast. The House Judiciary Committee approved the marijuana legalization bill, Senate Bill 22, and the House on Thursday rejected two attempts to slow passage. One Republican-led effort sought to delay a vote until mid-month, while the other sought to delay legalization until 2019. The House may well have passed the bill by the time you read these words; if so, it would then go back to the Senate for a final vote. The measure would legalize the possession and cultivation of small amounts of marijuana, but not retail sales.
Methamphetamine
South Dakota Attorney General Seeks Stiffer Sentences for Meth Sales. State Attorney General Marty Jackley (R) said Tuesday he intends to ask the legislature to impose tougher sentences for meth distribution, and he had a unique reason for doing so: He argued that it would lead to fewer people in prison because it would scare meth dealers away. He is proposing raising the maximum sentence for distribution from 10 to 15 years, among other enhanced penalties. Jackley is seeking the Republican gubernatorial nomination.
Criminal Justice
New York Governor Calls for Criminal Justice Reforms. Gov. Andrew Cuomo proposed sweeping changes in the state's criminal justice system Thursday. Among them are: Eliminating cash bail for defendants facing misdemeanor and nonviolent felony charges, speeding up trials by forcing prosecutors to share evidence before the trial date, and asset forfeiture reforms.
International
Mexico City Mayoral Candidate Calls for Personal Marijuana Cultivation. Mexico City residents should be able to grow their own marijuana, mayoral candidate Salomon Cherorivski said Wednesday. "My proposal is the legalization of private cultivation for personal consumption, not for sale, in homes in Mexico City," the center-left Chertorivski told Reuters. Chertoriviski is seeking the nomination of a left-right coalition for the mayoral candidacy. That coalition is currently polling second to a left-wing party in the Mesoamerican megalopolis.
Australian Government Will Allow Medical Marijuana Exports. The federal government announced Thursday that it will allow the export of medical marijuana in a bid to boost opportunities for Australian producers. The proposal needs approval by the federal parliament, but the government is behind it, and the main opposition party has already signaled its support. Australian marijuana stocks surged on the news.