Marijuana bills aimed at the new year begin popping up, Pennsylvania's highest court rules for pregnant drug users, Russia ponders its own poppy crop, and more.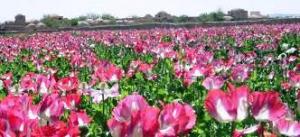 Marijuana Policy
New Hampshire Legalization Bill Ready to File. A group of state lawmakers have agreed on language for a bill that would allow for legal marijuana commerce and let adults possess up to an ounce of weed and grow up to six plants. The bill has not yet been formally filed. Legalization efforts in previous years have been thwarted in the Republican-dominated legislature, but Democrats retook control in the November elections, Still, Republican Gov. Chris Sununu has vowed to veto any legalization bill that reaches his desk.
Virginia Decriminalization Bill Ready to Go. When the legislature convenes next week, it will have a decriminalization bill waiting for it. Sen. Adam Ebbin (D-Alexandria) has pre-filed SB 997, which would decriminalize the possession of up to a quarter-ounce of weed and provide for a maximum $50 civil penalty. Under current state law, getting caught with a joint carries a jail sentence of up to 30 days and a $500 fine. Similar bills have been filed in previous sessions, but never made it out of committee.
Pregnancy
Pennsylvania High Court Rules Drug-Using Pregnant Women Can't Be Charged With Child Abuse Under State Child Protection Law. In an opinion issued last Friday, the state Supreme Court held that the state's child protection law does not apply to pregnant women. The court ruled that the law doesn't include fetuses or unborn children and said victims protected by the law must be children.
International
Russia Moves Towards Allowing Medicinal Opium Crops. The Russian government last week approved a draft bill that would allow the country to produce medicinal opium crops. Government officials said the bill was needed to reduce its dependence on foreign countries that supply raw opium to government factories because some of those countries have imposed sanctions on the country. "In order not to leave our population without strong painkillers, we must be self-sufficient," health minister Veronika Skvortsova told reporters. "We need to produce drugs in a full cycle -- from substances to their medicinal form." The bill still needs to be approved by parliament and signed into law by President Vladimir Putin.
Thai Government Approves Medical Marijuana, Kratom. The Thai ruling junta last week approved a bill legalizing medical marijuana, becoming the first country in Southeast Asia to do so. The bill also regularizes the status of kratom, which comes from there. The bill becomes law once it is approved by the monarchy.