California ends cash bail for criminal defendants -- but cash bail opponents don't think it was worth it -- the Northern Marianas Islands legislature passes a marijuana legalization bill, Oregon activists look forward to cannabis cafes, and more.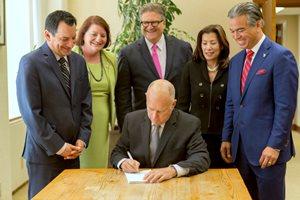 Marijuana Policy
New York Governor Announces Series of "Listening Sessions" on Marijuana Legalization. Gov. Andrew Cuomo (D) has announced that state officials will hold a series of "listening sessions" about marijuana legalization beginning next week. "Community input is critical as we work to draft balanced and comprehensive legislation on a regulated marijuana program in New York," Cuomo said in a press release. "The multi-agency report identified the benefits of a regulated marijuana market, and with these listening sessions, we are taking another important step to develop a model program for New York. We look forward to hearing what New Yorkers in every corner of the state have to say." The announcement comes a day after the Assembly announced it would hold a series of public hearings on the issue this fall.
Northern Marianas Legislature Passes Marijuana Legalization Bill. The Northern Marianas' Commonwealth Legislature has approved a bill to legalize and regulate marijuana for adult and medical use. H.B. 20-178 will now be sent to Gov. Ralph Deleon Guerrero Torres for his consideration. The House approved the bill 18-1-1 on August 8 and the Senate approved it 6-0-2 on Thursday. The bill allows adults to possess up to an ounce of weed and register to grow up to six mature and 12 immature plants at home. It also directs the legislature to set taxes and fees on regulated marijuana businesses.
Oregon Activists Want Cannabis Cafes, Could Go Initiative Route if Legislature Doesn't Act. The marijuana advocacy group the New Revenue Coalition says it will push lawmakers next year to legalize the existence of cafes and lounges dedicated to onsite marijuana consumption. The group also plans to begin gathering signatures for a 2020 initiative as a back-up plan." Cannabis consumers deserve a place to use their cannabis safely and legally. This is a social justice issue that disproportionately affects the poor, patients and communities of color," said Madeline Martinez, a national board member for National Organization for the Reform of Marijuana Laws and executive director of Oregon NORML.
Medical Marijuana
Connecticut Regulators Add New Qualifying Conditions. The General Assembly's Regulations Review Committee has released updated medical marijuana regulations that add new qualifying conditions for adults and children. The conditions include spasticity or pain associated with fibromyalgia, severe rheumatoid arthritis, post-herpetic neuralgia, hydrocephalus with intractable headache, neuropathic facial pain, and muscular dystrophy.
Michigan Regulators Propose Allowing Online Orders, Home Delivery. The state's Bureau of Medical Marijuana Regulation have proposed a rule to allow online orders and home delivery. The rule is aimed at helping people who don't live near a marijuana supplier. A public hearing is set for next month.
Criminal Justice
California Governor Signs Bill to End Cash Bail. Gov. Jerry Brown (D) on Tuesday signed into law a bill that almost entirely ends the state's cash bail system. Instead, judges will have greater power to decide who should remain behind bars awaiting trial. Senate Bill 10 would virtually eliminate cash bail. "Today, California reforms its bail system so that rich and poor alike are treated fairly," Brown said in a statement. Human Rights Watch was among the criminal justice reform groups who don't see it that way. In mid-August they pulled support for the bill, saying it would substitute one bad system for another.