This article was produced in collaboration with AlterNet and first appeared here.
The Trump Justice Department under prohibitionist Attorney General Jeff Sessions is reviving some of the drug war's worst sentencing practices -- mandatory minimum sentences, charging low-level defendants with the harshest statutes -- but that doesn't mean the states have to follow suit.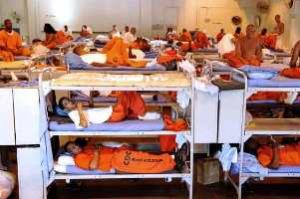 And, as has been the case with climate change, environmental protection, trade, and the protection of undocumented residents, California is charting its own progressive path in the face of the reactionaries in Washington.
The latest evidence comes from Sacramento, where the state Assembly passed a bill to stop sentencing drug offenders to extra time because they have previous drug convictions. The measure, Senate Bill 180, also known as the Repeal Ineffective Sentencing Enhancements (RISE) Act, passed the state Senate in June and now goes to the desk of Gov. Jerry Brown (D).
The bill would end a three-year sentence enhancement for prior drug convictions, including petty drug sales and possession of drugs for sales. Under current law, sale of even the tiniest amounts of cocaine, heroin, and methamphetamine can earn up to five years in prison, and each previous conviction for sales or possession with intent add three more.
State sheriffs complain that the drug sentencing enhancement is the leading cause of 10-year-plus sentences being served in their county jails, which now shoulder more of the burden of housing drug war prisoners after earlier reforms aimed at reducing prison overcrowding shifted them to local lock-ups. As of 2014, there were more than 1,500 people in California jails sentenced to more than five years and the leading cause of these long sentences was non-violent drug sales offenses.
"People are realizing that it is time to reform the criminal justice system so that there's more emphasis on justice and rehabilitation," Mitchell said after the final vote on SB 180, which is supported by nearly 200 business, community, legal and public-service groups. "By repealing sentencing enhancements for people who have already served their time, California can instead make greater investments in our communities. Let's focus on putting 'justice' in our criminal-justice system."
"This sentencing enhancement has been on the books for 35 years and failed to reduce the availability or sales of drugs within our communities," said Eunisses Hernandez of the Drug Policy Alliance, which supported the bill. "These extreme and punitive polices of the war on drugs break up families and don't make our communities any safer."
The bill is part of a set of bills known as the #EquityAndJustice package aimed at reducing inequities in the system. Authored by state Sens. Holly Mitchell (D-Los Angeles) and Ricardo Lara (D-Long Beach), the package also includes Senate Bill 190, which would end unreasonable fees on the families of incarcerated children and also sits on the governor's desk, as well as Senate Bill 355, which will end the requirement that innocent defendants reimburse the counties for the cost of appointed counsel. Brown has already signed that into law. "Harsh sentencing laws have condemned a generation of men of color, and with SB 180 and other bills in the Equity and Justice package we are on our way to restoring the values of rehabilitation to the criminal justice system," Lara said.
When Washington is in the hands of authoritarian, law-and-order politicians like Trump, Sessions, and the Republican Congress, it's time for the states to step up. California is showing how it's done.