Nevada marijuana stores get an okay for early openings, Georgia's governor signs a CBC cannabis oil expansion bill, Chris Christie says drug czar budget cuts aren't going to happen, and more.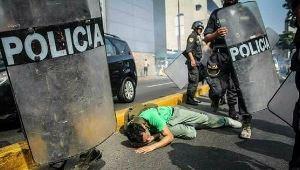 Marijuana Policy
Nevada Recreational Marijuana Sales Can Begin as Early as July 1. The Nevada Tax Commission voted on Monday to approve temporary licenses for qualifying pot shops so that they can open without waiting for the commission to draft rules, a process that must be completed by January 1. The marijuana retailers must, though, have state and local licenses to operate, and most counties have yet to approve their own regulations.
Medical Marijuana
Georgia Governor Signs CBD Cannabis Oil Expansion Bill. Gov. Nathan Deal (R) on Tuesday signed into law Senate Bill 16, which expands the number of qualifying conditions for the use of low-THC cannabis oil and allows patients in hospice care to possess it. The new qualifying conditions are AIDS, Alzheimer's disease, autism, epidermolysis bullosa, peripheral neuropathy and Tourette's syndrome.
Drug Policy
Chris Christie Says Cuts to Drug Czar's Office Won't Happen. New Jersey Gov. Chris Christie (R), who was named by President Trump to head an advisory group on the opioid epidemic, said on Tuesday that a widely-reported deep cut in funding for the Office of National Drug Control Policy (ONDCP -- the drug czar's office) is "not going to happen." The governor added that: "I believe there will be funding and I believe funding will take different forms." But he also criticized the office, saying the opioid epidemic was evidence it wasn't doing its job.
International
Australia Welfare Recipients to Be Subject to Drug Testing. The federal government is aiming to cut welfare expenses, in part by going after people affected by drugs and alcohol. Federal Treasurer Scott Morrison said in his budget speech that a pilot drug testing program will be run on 5,000 welfare recipients. Anyone who tests positive will have his or her benefits locked to a cashless card that can only be used for "essential living expenses" and will also be "subjected to further tests and possible referral to treatment."
Peru Police Attack Medical Marijuana Rally Marchers. Activists calling for the legalization of marijuana announced Monday they had filed a lawsuit against the National Police after officers violently attacked marchers in a peaceful demonstration last Saturday. "We were just marching peacefully when the police started attacking us with tear gas, including our children, regardless of the fact that some of them were in wheelchairs," said Looking for Hope leader Ayde Farfan. Police also arrested eight activists, although they released them the next day. The Peruvian Congress is set to debate a medical marijuana bill next week, but it doesn't include a provision for growing your own, which is what the marchers were calling for.