The Philippines' bloody-handed president is facing harsh criticism as the UN Commission on Narcotic Drugs meets in Vienna, West Virginia gets a marijuana legalization bill, New York City Mayor Bill de Blasio rolls out a plan to fight opioid addiction and overdoses, and more.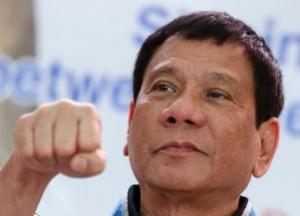 Marijuana Policy
West Virginia Legalization Bill Filed. Delegate Sean Hornbuckle (D-Cabell County) introduced House Bill 3035 Tuesday. The bill would tax and regulate marijuana like alcohol. It has been sent to the House Health and Human Resource Committee. If it gets through there, it must then go to the House Judiciary Committee before heading for a House floor vote.
Medical Marijuana
Arkansas Bill to Ban Edibles, Public Smoking Wins Committee Vote. A bill that would bar medical marijuana patients from consuming edibles or from smoking their medicine in public was approved Wednesday by the House Rules Committee. But the measure, House Bill 1400, faces an uphill battle to win final approval because any changes to the voter-approved medical marijuana law require a two-thirds vote to pass.
Massachusetts Bills Would Protect Patients' Employment Rights. Even as the state Supreme Court Thursday heard a case on employment rights for medical marijuana patients, two bills alive in the state legislature would do just that. Rep. Frank Smizik (D-Brookline) has introduced House Bill 2385, which would explicitlyprotect the rights of a medical marijuana patient to use the drug without facing discrimination in hiring, firing or terms of employment. The bill would also protect medical marijuana patients from discrimination in education, housing and child welfare and custody cases. That bill is currently before the Committee on Marijuana Policy. A similar bill was filed last sessions, but didn't pass. A second bill, House Bill 113, is aimed mostly at updating state law to bring it in line with the Americans With Disabilities Act, but one provision clarifies that employers cannot take adverse employment action against someone for using medical marijuana. That bill is before the Joint Committee on Children, Families, and Persons with Disabilities.
Nebraska Medical Marijuana Bill Gets Charged Hearing. At a hearing in the Judiciary Committee Wednesday, law enforcement, the state attorney general's office, and the state's top doctor all came out in opposition to a medical marijuana bill, Legislative Bill 622, but legislators also heard emotional testimony in favor of the bill from Army veterans and others who said they would benefit from access to medical marijuana. Five of the bill's sponsors sit on the eight-member Judiciary Committee, so the bill is likely to make it to a House floor vote, where opposition has killed similar measures in past years.
Heroin and Prescription Opioids
New York City Mayor Reveals Plans to Fight Opioid Addiction. Mayor Bill de Blasio said Monday that the city planned to spend as much as $38 million a year on a broad array of measures aimed at reducing opioid addiction and overdoses. Among the measures mentioned were expanded methadone and buprenorphine treatment, the distribution of the overdose reversal drug naloxone to all 23,000 city patrol officers, a focus on city hospitals on dealing with addiction and overdoses, and increased prosecution of opioid dealers. De Blasio mentioned outreach, treatment, and law enforcement, but not harm reduction.
International
Bolivia Says It Does Not Need US or European Help to Fight Drug Trafficking. Bolivian Vice President Alvaro Garcia Lima said Wednesday that his country doesn't need help or advice from the US or Europe on its coca policies or its fight with drug traffickers. "We fight against drug trafficking with Bolivian money, we do not depend on the European Union (EU) to fight against drug trafficking. Before when we depended on the United States, Bolivia received about USD $100 million. We have set aside that aid," he said. Garcia Lima's remarks came in response to European Union criticism of a new Bolivian law nearly doubling legal coca cultivation. The EU suggested that perhaps its aid to Bolivia should be "refocused." Garcia Lima retorted that Bolivia is "not begging money" from the EU.
Philippines Vice-President Condemns Duterte's Drug War. In an interview with Time magazine ahead of a speech set for Thursday at the Commission on Narcotic Drugs in Vienna, Philippine Vice President Leni Robredo condemned President Rodrigo Duterte's bloody drug war and said she was "inspired" by growing opposition to it. She also said she was "encouraged" that the international community is speaking out. "We hope that in the next few months we, together with the international community, can convince the current administration to focus its efforts in ending human-rights violations and extrajudicial killings," she said. "In addition, let us work together to strengthen the existing accountability mechanisms in the Philippines in order for us to have those responsible brought to justice. We hope that we can persuade the administration to concentrate more on the bigger war we are facing -- the war on poverty."
Philippines Lawmaker Files Impeachment Complaint Against Duterte, Cites Drug War Killings. Philippines Rep. Gary Alejano has filed an impeachment complaint against President Rodrigo Duterte, calling for his removal for high crimes, abuses of power, and betrayal of public trust. The complaint lists drug-related murders, the operation of death squads while Duterte was mayor of Davao City, and conflicts of interest among the impeachable offenses. Pro-Duterte lawmakers said the complaint "will not fly," but Alejano was undaunted. "Our goal with this complaint is to be a vehicle for Filipinos to have a voice to oppose and fight against the abuses and crimes of President Duterte," Alejano told a televised news conference. "We know it's an uphill battle... but we believe that many will support this."