The Supreme Court makes two good drug policy-related rulings in one day, the California Assembly approves both a marijuana "sanctuary" bill and a supervised injection site bill, last-ditch efforts to free the weed in Connecticut hit a bump, and more.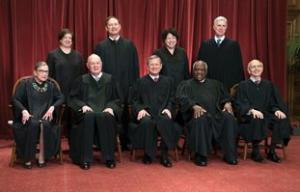 Marijuana Policy
California Assembly Passes Marijuana "Sanctuary" Bill. The Assembly has approved Assembly Bill 1578, which would prohibit state resources from being used to help enforce federal marijuana laws that conflict with state law. The bill from Assemblyman Reggie Jones-Sawyer (D-Los Angeles) now goes to the state Senate.
Connecticut Legalization Measure Still Stalled. The last-ditch effort to get legalization passed through the budget process broke down early Monday just minutes before a press conference announcing a compromise was to be announced. Rep. Melissa Ziobron (R-East Haddam) complained that she didn't see a copy of the legalization amendment until just minutes earlier, when she learned that Rep. Josh Elliot (D-Hamden) and other Democrats had been crafting the measure since last Friday. "This isn't about headlines. This isn't about a news conference," Ziobron said. "This is about what's good for the state of Connecticut, and doing it last-minute, doing it in a way that is not bipartisan, is very worrisome and should be for every single person in this state."
Nevada Republicans Kill Governor's Pot Tax Bill. A bill supported by Gov. Brian Sandoval (R) that would have imposed a 10% tax on recreational marijuana sales has been defeated in the Senate after Republicans refused to support it because of unrelated budget issues. The vote was 12-9 in favor, but because it was a budget bill, it needed a two-thirds majority, or 14 votes, to pass.
Medical Marijuana
Florida Governor Uses Line-Item Veto to Kill Medical Marijuana Research Projects. Gov. Rick Scott (R) used his line-item veto power to kill three line items that would have provided more than $3 million dollars to the Moffitt Cancer Center and the University of Florida for medical marijuana research. In his veto message, Scott wrote that the institutions had plenty of money to fund the research on their own.
Asset Forfeiture
Supreme Court Restricts Asset Forfeiture in Drug Cases. In a decision handed down Monday, the US Supreme Court has moved to restrict prosecutorial efforts to seize money or goods from drug defendants. In Honeycutt v. US, brothers Terry and Tony Honeycutt were convicted of selling methamphetamine precursor chemicals, and the feds then swooped in to seize $200,000 of the estimated $270,000 profits from the sales. But they then sought to seize the remaining $70,000 from Terry Honeycutt, who was only an employee at his brother's hardware store, and that crossed a line, the court said. "Congress did not authorize the government to confiscate substitute property from other defendants or coconspirators," Sotomayor said. "It authorized the government to confiscate assets only from the defendant who initially acquired the property and who bears responsibility for its dissipation."
Drug Testing
Supreme Court Refuses to Hear Appeal from Missouri Tech College That Wanted to Drug Test All Students. The US Supreme Court on Monday declined to hear an appeal from the State Technical College of Missouri of an appeals court ruling that its mandatory drug testing policy is unconstitutional when applied to all students. Lower courts had upheld mandatory suspicionless drug testing of only a handful of the school's disciplines where safety was a key element. "This case establishes -- once and for all -- that under the Fourth Amendment, every person has the right to be free from an unreasonable search and seizure, including college students," the ACLU, which filed the class-action lawsuit in 2011, said in a statement Monday.
Harm Reduction
California Assembly Passes Supervised Injection Sites Bill. The Assembly last Thursday approved Assembly Bill 186, which would allow for the provision of supervised drug consumption sites. The pioneering harm reduction measure sponsored by Assemblywoman Susan Talamantes Eggman (D-Stockton) now moves to the state Senate. "California is blazing a new trail toward a policy on drug addiction and abuse that treats it as the medical issue and public health challenge that it is, and not as a moral failing," said Talamantes Eggman. "We are in the midst of an epidemic, and this bill will grant us another tool to fight it -- to provide better access to services like treatment and counseling, to better protect public health and safety, and to save lives."