p>With
the support of state law enforcement
, a Massachusetts Democratic state representative has filed a drug war bill that would send violators to prison for a mandatory minimum two years (five years for a second offense) and allow police to seize their vehicles -- all without the presence of any actual drugs.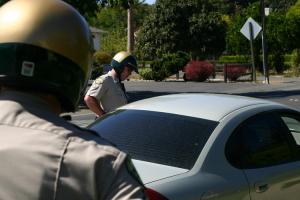 Sponsored by Rep. Stephan Hay (D-Fitchfield), the measure,
House Bill 1266
, makes it a crime to have a hidden compartment in one's vehicle or to try to add one -- and it
presumes
that any hidden compartment in a vehicle is for "for the purpose of transporting or distributing controlled substances" and related contraband, such as cash or weapons. As the bill specifies in its asset forfeiture section:
Proof that a conveyance contains a hidden compartment as defined in this section shall be prima facie evidence that the conveyance was used intended for use in and for the business of unlawfully manufacturing, dispensing, or distributing controlled substances.
This is a legislative attempt to redefine reality in the name of drug war priorities akin to South Dakota's law deeming meth use or possession by a parent as child abuse. Despite that law, meth use is not child abuse, although it could lead to it. Similarly, having a hidden compartment in a car does not mean one is involved in trafficking, although one could be. But in both cases, legislators seek to twist reality to sync with prohibitionist -- and punitive -- ideology.
Only one state, Ohio, has a similar law on the books, and it has only been used once, but that one instance should be disturbing. In 2013, state troopers stopped Norman Gurley and discovered a secret compartment in his vehicle. They found absolutely no drugs but arrested him anyway on charges he broke the secret compartment law. That case briefly became a national news sensation before fading into obscurity, but it still lives: Gurley is set for a jury trial in December.
Police in Massachusetts are supporting this bill not only because it gives them one more tool in their war on drugs, but also because they get to keep any cars they seize. Massachusetts has the worst civil asset forfeiture laws in the country, and unlike states that are lining up to end forfeitures without a criminal conviction, as neighboring Connecticut did this week, cops only need to reach the threshold of probable cause that someone's cash or car or other property is related to a crime to seize it. This bill would make it all the easier, and they wouldn't even need to find any drugs.