As his term winds down, President Obama continues to free more drug prisoners; New Jersey Dems plan a legalization bill, Wisconsin Dems plan a medical marijuana bill, and more.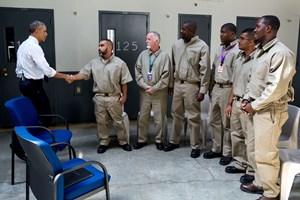 Marijuana Policy
New York Times Editorial Board Calls on Feds to Remove Barriers to Marijuana Research. In a Tuesday editorial, the Times cited last week's report from the National Academy of Sciences as it called on the federal government to reschedule marijuana out of Schedule I or, at least, remove regulatory barriers to further research on it. Marijuana "does not belong with LSD and heroin on Schedule I," the Times declared, but "even if Mr. Trump and Congress are unwilling to reclassify marijuana, they could remove the regulatory barriers to research and let scientists get to work."
New Jersey Democrats Prepare Legalization Bill, Despite Christie's Opposition. State Sen. Nicholas Scutari (D) said Monday that he and other Democrats will introduced a legalization bill in February, despite the opposition of Gov. Chris Christie (R). But Christie will be gone after the next election, and the legalization bill will still be there.
Medical Marijuana
Wisconsin Democrats to File Medical Marijuana Bill. State Sen. Jon Erpenbach (D) and Rep. Chris Taylor (D) are circulating a medical marijuana after Republican Assembly Speak Robin Vos said he would be open to the idea. Republicans control both houses of the state legislature, and Senate Majority Leader Scott Fitzgerald is not in favor. The Democratic pair have until January 26 to come up with cosponsors and file the bill.
Sentencing
Obama Commutes Sentences for Another 200+ Drug Offenders, and Chelsea Manning, Too. President Obama Tuesday announced he has commuted the sentences of 209 federal prisoners, nearly all drug offenders, as well as imprisoned leaker Chelsea Manning. Tuesday's actions bring to 1,385 the number of sentences commuted under Obama, far exceeding the number of commutations granted by any modern president.
International
Iran Hangs 14 More Drug Prisoners. At least 14 people were hanged at Karaj Central Prison on drug-related charges in the past week, Iran Human Rights reported Tuesday. The group named 10 of the executed: Mohammad Soleimani, Ali Ebadi, Ali Reza Moradi, Majid Badarloo, Omid Garshasebi, Ali Yousefi, Seyed Ali Sorouri, Ebrahim Jafari, Ali Mohammad Lorestani, and Mohsen Jelokhani. The continuing executions come even as the Iranian parliament considers ending the death penalty for drug offenses.
Brazil Approves First Marijuana-Based Medicine. Brazil's National Health Surveillance Agency (Anvisa)has issued a license for Metavyl, a drug containing 27 milligrams of THC and 25 milligrams of CBD per milliliter. The drug will be available as an oral spray. But Anvisa has designated Metavyl a "black label" drug, meaning it can only be used by patients who have not responded to conventional medicines.