Regulators and legislators continue to mess with the will of the voters when it comes to implementing marijuana initiatives, the Philippines' president makes more bloody-minded threats, and more.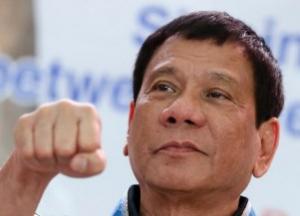 Marijuana Policy
Alaska Just Says No to On-Site Pot Consumption. State regulators have rejected a proposal to allow marijuana stores to have areas where customers can consume their products on-site. Alcohol and Marijuana Control Office acting Director Sara Chambers said public notice for the proposal was not done properly, but instead of re-advertising the proposal for another 30 days, the Marijuana Control Board voted to kill it on a 3-2 vote.
North Dakota House Rejects Marijuana Legalization Study. A measure that would have authorized a study of marijuana legalization and taxation was killed in the House Thursday. The bill had passed out of committee with no opposition testimony. The legislature killed a similar proposal two years ago. "If we had undertaken that study we might have been more proactively prepared to deal with the issues arising from the recent initiated measure," said Rep. Mary Schneider (D-Fargo). "This is a second chance to get it right. There was no opposition testimony and the committee urges a green, as in grass, vote."
Medical Marijuana
Arkansas Regulators Continue Working Despite Threat of Legislative Meddling. The Medical Marijuana Commission met again Wednesday, but members spent much of the time discussing what they would do if a pending bill that would ban dispensaries from growing their own crops passes. That's only one of a number of bills filed aimed at tinkering with the voter-approved law. Among other actions, the commission agreed to require hefty performance and surety bonds for dispensaries that grow their own medicine.
North Dakota Activists Scold Legislature for Messing With Medical Marijuana Initiative. Medical marijuana supporters are denouncing legislative efforts to rewrite their voter-approved initiative and replace it with an 81-page lawmaker-drafted law. The proposed law, Senate Bill 2344, is set for a hearing in the Joint Health and Services Committee next Wednesday. The bill would create a $300 fee for patients seeking medical marijuana cards and a $100,000 fee for dispensaries that grow medical marijuana. The measure also pares back the amount of medicine patients can possess and would eliminate smoking or vaping it. "It's a punch in the gut to the patients of North Dakota, and a slap in the face to the voters of North Dakota," said Rilie Ray Morgan of Fargo, one of the sponsors of the initiative.
International
Philippines President Out for More Blood, Vows More Killings. Just a day after he suspended police participation in his murderous war on drugs after the killing of a South Korean businessman in a police station opened a window on corruption in the National Police, Philippines President Rodrigo Duterte is calling on the military to join the campaign, and vowing to kill more people. "You bleed for those sons of a bitches. How many? Three thousand? I will kill more if only to get rid of drugs." The actual number of people killed in Duterte's drug war is more than 7,000; he was taking credit only for the ones officially attributed to police. The rest are blamed on "vigilantes."