In June, 2014, Wilfredo Ramos was driving back to his Brooklyn home after visiting his mother in Lancaster, Pennsylvania when two Pennsylvania State Police troopers detoured him into a Kafkaesque nightmare from which he emerged only five months later.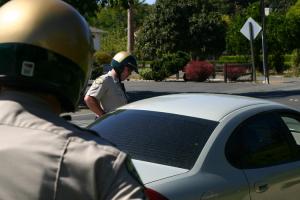 In the meantime, Ramos rotted in jail on bogus charges, losing his job, his car, and his apartment. Now, in a small gesture of redress, the State Police have agreed to pay Ramos $150,000 for his travails in a taxpayer-funded settlement, but the cops still admit no fault or liability.
According to the lawsuit that ended in the settlement, Ramos' nightmare began when he was pulled over by Troopers Justin Summa and Kevin Vanfleet on June 6, 2014. Neither trooper said why they stopped Ramos, and the suit alleged they were engaged in racial profiling because Ramos is Hispanic and was driving a car with New York plates.
Summa claimed he smelled alcohol, and Ramos replied that he had not been drinking. Summa then challenged Ramos, citing his ethnicity and place of residence. "We know you have drugs," Summa told him, "just tell us where they are." Ramos denied possessing any drugs.
Summa then administered a Breathalyzer test, which came back negative for alcohol, and ordered Ramos to perform field sobriety tests, which he completed without any problem. The encounter should have ended at that point, with Ramos being thanked for his cooperation and sent on his way, since there was no evidence he had committed any crime.
But that's not what happened. Instead, although Ramos had cleared all the tests and although they lacked probable cause, Troopers Summa and Vanfleet arrested Ramos for driving under the influence, giving them a pretext to search his vehicle in their quest to make a drug bust. Their search turned up nothing.
The troopers then took Ramos to state police headquarters where they administered yet another Breathalyzer test, which they described as "inconclusive." The next stop was the Lehigh County DUI center, where Ramos consented to have his blood drawn to be tested.
According to the lawsuit, typical practice in Lehigh County is that people arrested under suspicion of drunk driving who have no prior drunk driving arrests and where there was no accident or injuries are released pending blood test results. That didn't happen with Ramos. Instead, he was held under $10,000 cash bail -- an amount he could not raise.
As Ramos rotted in jail, his blood sample was tested twice by the Lehigh Valley Health Network Laboratory, which found on June 18, 2014, that it contained no drugs or alcohol. Trooper Summa then ordered a third test of the sample, this time for a broader spectrum of substances, but again the results were negative.
On the same day the test results came in, Summa testified in a preliminary hearing on Ramos' case that the results were not yet in. He did not tell the court about the negative test results. Ramos remained in jail for 158 days until he was found not guilty in Lehigh County Court after blood tests showed no illegal substances or alcohol in his system.
While Ramos was jailed, he was fired from his job and lost his home. He lost his car, too: The tow truck operator notified Ramos by mail about a deadline to retrieve his vehicle, but because Ramos was in jail, no one was at his residence to receive the letter.
Ramos' lawsuit charged that Troopers Summa and Vanfleet conspired to falsely arrest him despite finding no evidence that he was impaired or had drugs in his car. The lawsuit also named five state police supervisors, from the troop commander to former state police Commissioner Francis Noonan, as liable for racially motivated misconduct, unlawful seizure, violations of due process of law, denial of equal rights, conspiracy to interfere with civil rights, and other Civil Rights Act violations.
While the State Police admitted no fault or liability, their willingness to settle the case speaks for itself.
Attorney Joshua Karoly, who represented Ramos in the lawsuit, was magnanimous after the settlement was announced. "It was a mistake that this happened, and this resolution is going to go a long way toward getting his life back on track to where it was before this happened," Karoly told the Lancaster Morning Call. "It makes mistakes like that much less likely when they're brought to the public's attention."