Global NGOs have written to the Colombian president to express concerns about forced eradication of coca crops, a Nevada judge removes a marijuana sales bottleneck, Massachusetts has a new police force aimed at "extremists and drug traffickers," and more.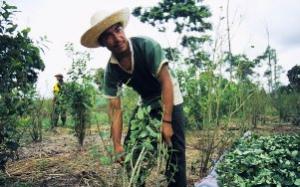 Marijuana Policy
Nevada Judge Clears Way for More Distribution Licenses. Carson City District Judge James Russell on Thursday lifted a temporary restraining order that had forced the state to limit marijuana distribution rights to liquor wholesalers. The state's legalization initiative had required officials to limit distribution rights to liquor wholesalers for the first year and a half -- unless they couldn't keep up with demand. In his ruling Thursday, Judge Russell held that they had demonstrated they couldn't.
Asset Forfeiture
Illinois Asset Forfeiture Reform Law Now in Effect. An asset forfeiture reform bill passed earlier this year, House Bill 303 (with asset forfeiture reform added as an amendment to an unrelated bill), is now in effect. The bill does not end civil asset forfeiture, but increases the standard of evidence needed to seize property and adds reporting requirements for all seizures.
Law Enforcement
Massachusetts State Police Division Created to Go After Extremists and Drug Traffickers. Lt. Gov. Karyn Polito (R) announced Thursday the formation of a new State Police division to address threats from "extremists and drug traffickers." The new Fifth Division will collect and analyze criminal intelligence and provide protection for large-scale events and key infrastructure, Polito's office said.
International
Global NGOs Concerned About Forced Eradication in Colombia. In a letter to Colombian President Juan Manuel Santos, the International Drug Policy Consortium (IDPC), a global network of 177 NGOs, expressed strong support for the Peace Accord signed by the Colombian government and the FARC, while also expressing deep concern regarding intensified, and increasingly militarized, forced coca eradication efforts, especially in areas where communities have already signed crop substitution agreements. Forced eradication in areas where communities have signed crop substitution agreements perpetuates violence and generates new conflicts, undermines the very spirit of the voluntary crop substitution agreements and confidence-building efforts with local communities, and potentially threatens the effective implementation of the peace accord, the groups charged.