The body representing state legislatures again calls for marijuana reforms, Vermont's governor is about to empanel on commission to study legalization issues, a safe injection site has been operating secretly in a US city for the past three years, and more.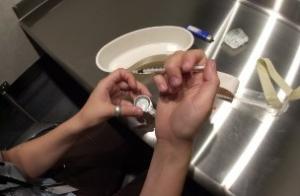 Marijuana Policy
National Conference of State Legislatures Urges De-Scheduling Marijuana. The National Conference of State Legislatures has approved a resolution calling for marijuana to be removed from the Controlled Substances Act. The resolution approved on Monday specifically references access to banking, saying such a move would result in "… enabling financial institutions the ability to provide banking services to cannabis related businesses." This marks the third year in a row the conference has passed a resolution on marijuana, going a bit further each time. In 2015, it resolved that federal laws should be amended to allow states to set their own pot policies, and last year, it resolved that marijuana should be down-scheduled.
Vermont Governor About to Convene "Blue Ribbon Commission" on Legalization. Gov. Phil Scott (R) says he will shortly convene a commission to study issues around marijuana legalization, but it looks like his emphasis will be on how to detect marijuana impairment in drivers rather than examining models for legalization. Earlier this year, Scott vetoed a legalization bill, citing concerns about driving and youth, and he says now that he will not sign a bill that doesn't have stringent standards on impaired driving.
Virginia Gubernatorial Candidates Split on Decriminalization. Democratic nominee Lt. Gov. Ralph Northam sent a letter Monday to the State Crime Commission, which is studying decriminalization, in support of the notion. That position contrasts with Republican nominee Ed Gillespie, who says he opposes legalization or decriminalization, but is open to exploring reforms to ensure that penalties are commensurate with the offense committed. Polling shows a majority of Virginians favor decrim. Libertarian candidate Cliff Hyra, meanwhile, says just tax and legalize it.
Medical Marijuana
Indiana Republican Will File Medical Marijuana Bill to Fight Opioid Overdoses. State Rep. Jim Lucas (R-Seymour) says he plans to file a medical marijuana bill in a bid to combat opioid abuse. He said he was acting after hearing from constituents. "People telling me their personal stories, how they've been helped by this product, how far behind Indiana is on this issue," he told the Indianapolis Star. "That right there, we have a responsibility to at least investigate it and determine the facts, and if there is something positive out there, we have to pursue that."
Asset Forfeiture
Arizona Asset Forfeiture Reforms Go Into Effect Wednesday. A new law limiting civil asset forfeiture reform goes into effect Wednesday. House Bill 2477 does not end civil asset forfeiture, but raises the standard of proof necessary for seizures from "a preponderance of the evidence" to "clear and convincing evidence."
Harm Reduction
Underground Safe Injection Site Has Been Operating in a US City for Three Years. In a report released Tuesday, two researchers revealed that they've been studying an unpermitted safe injection site in operation since 2014. They reported that no one died while using drugs at the site and that two overdoses were reversed by staff members administering naloxone. The report comes as pressure to authorize such sites is mounting, with lawmakers in states like California and New York and cities including San Francisco, Seattle, and Ithaca, New York, backing such efforts.
(This article was prepared by StoptheDrugWar.org"s lobbying arm, the Drug Reform Coordination Network, which also pays the cost of maintaining this web site. DRCNet Foundation takes no positions on candidates for public office, in compliance with section 501(c)(3) of the Internal Revenue Code, and does not pay for reporting that could be interpreted or misinterpreted as doing so.)