Nashville blows off state attorney general and will continue marijuana decriminalization, time to give your senators your two cents worth on the Sessions nomination, the Dutch ruling party belatedly comes around on coffee shop supply, and more.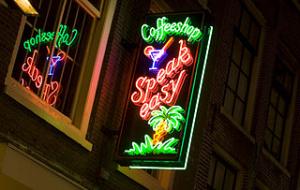 Marijuana
Nashville Will Cite and Release Marijuana Offenders Despite State Attorney General's Opinion. The city of Nashville and surrounding Davidson County will continue to allow police to ticket and release small-time marijuana offenders, even though state Attorney General Herbert Slatery has issued an opinion contending that the local ordinance is invalid because it is preempted by state law. Metro Law Director Jon Cooper: "We have reviewed the Attorney General's opinion and understand his position. However, we believe we have a good faith legal argument that the ordinance is not preempted by state law," Cooper said in a statement Monday. "At this point, we do not believe a change in the police department's enforcement practice is warranted."
Medical Marijuana
Arkansas Lawmakers Eye Changes, Delays in Implementing Medical Marijuana. A week after voters approved a medical marijuana initiative, some legislators are acting to delay implementation, saying they need more time for rulemaking. Rep. Doug House (R-North Little Rock) said he is preparing a bill to do that. And Sen. Bart Hester (R-Bentonville) wants to add an additional tax to medical marijuana to help pay for $105 million in tax cuts he is proposing.
Drug Policy
Write Your Senator to Oppose the Sessions Nomination for Attorney General. Donald Trump's pick for Attorney General, Sen. Jeff Sessions, is one of the worst drug warriors in Congress. He almost single-handedly blocked mild sentencing reform bills that members of Congress from both parties supported. He opposes marijuana legalization and has even claimed that "good people don't use marijuana." Sen. Sessions was rejected for a judgeship by a Republican-controlled Senate because of racism and false prosecutions he brought against civil rights activists. He is not a likely leader for continuing the much-needed work that has begun on police reform; in fact he's more likely to worsen the divisions in our country, not improve them. Click on the link to tell your senator what you think.
International
Dutch Ruling Party Gets on Board With Cannabis Law Reforms. After 20 years of blocking any effort to decriminalize marijuana production, Prime Minister Mark Rutte's VVD party has had a change of heart. At a party conference last weekend, the VVD voted to support "smart regulation" of marijuana and "to redesign the entire domain surrounding soft drugs." The full text of the resolution, supported by 81% of party members, reads: "While the sale of cannabis is tolerated at the front door, stock acquisition is now illegal. The VVD wants to end this strange situation and regulate the policy on soft drugs in a smarter way. It's time to redesign the entire domain surrounding soft drugs. This redevelopment can only take place on a national level. Municipalities should stop experiments with cannabis cultivation as soon as possible." The opposition political parties are already in support of solving the long-lived "back door problem."