Pain is a drag. And chronic pain is a never-ending drag. Unfortunately, as we grow older, we can expect to increasingly suffer its torments. Half of older adults who live on their own report suffering from chronic pain. For people in elderly care facilities, that figure jumps to somewhere around 80%.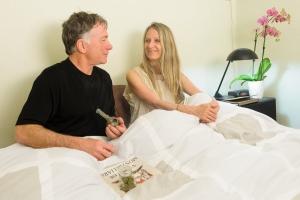 An aging population with its associated aches and pains is one reason opioid pain prescriptions have increased so dramatically this century. Opiates are a very popular pain management technique, despite the well-known problems with them, primarily addiction and lethality. They can ease your pain, but they can also kill you or get you strung out. And opiate users report other problems less severe, but still affecting quality of life, such as constipation and foggy-headedness.
In recent years, we have seen increasing evidence that one substance can reduce both pain and the reliance on opioids to treat it, and that its use can have a positive impact on fatal opioid overdoses. That substance is marijuana.
As the Johns Hopkins Bloomberg School of Public Health reported in 2014, "In states where it is legal to use medical marijuana to manage chronic pain and other conditions, the annual number of deaths from prescription drug overdose is 25% lower than in states where medical marijuana remains illegal."
Now, new research findings from Care By Design, one of California's leading medical marijuana producers, add more evidence of the positive role marijuana can play in treating chronic pain and reducing dependence on opioid pain medications. The study surveyed 800 patients, mostly between 50 and 70, more than 80% of whom reported suffering from chronic pain, half of whom reported suffering from acute pain, and more than 40% of whom reported suffering from both.
These patients were in a world of hurt and had tried a number of pain management tools—opiates, medical marijuana, anti-inflammatory agents (NSAIDS), nerve blockers, exercise/physical therapy, and surgery—with respondents reporting trying an average of four of them. A quarter of patients reported having tried all six.
The patients reported that marijuana was very effective for pain, with few negative side effects. That was in striking distinction to opiates, which patients also said were effective for pain, but had a significant negative impact on quality of life for a significant number of them. In fact, the differences between the two substances in terms of quality of life were so dramatic they led to dramatic changes in patient behavior.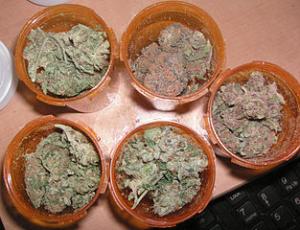 "This survey brings some very important information to light," said Care By Design spokesman Nick Caston. "We see here in our patient data that cannabis is improving the quality of life of our patients—particularly elderly patients suffering from age-related pain—and that it does so without the dangerous side effects of other pain management modalities.
"The study's most striking finding was cannabis' apparent impact on opiate reliance: Ninety-one percent of survey respondents reported that they decreased the amount of opiates they were taking or eliminated them altogether," Caston continued.
The study also found while marijuana, opiates, exercise/physical therapy, and NSAIDS all provided noticeable pain relief in more than half the patients, marijuana was the only pain management tool where there were no reports of worsening pain. And half of the patients using opiates reported that they had a negative impact on overall well-being, interfering with mood, energy, sleep, and functional abilities.
More than half of the patients reported using both marijuana and opiates to manage pain. But as noted above, nine out of 10 reduced or eliminated their opiate consumption after beginning to use marijuana. And nearly two-thirds (63%) said they were now off opiates altogether.
Over half of respondents reported that they had used both cannabis and opiates for pain management. Of great interest was the impact of cannabis therapy on opiate usage: Ninety-one percent of this subgroup reported that they used fewer or no opiates after beginning cannabis therapy. Sixty-three percent said that they went off opiates altogether.
"A tenet of healthcare in the United States is 'First, do no harm,'" the study concluded. "Patient reports of cannabis' efficacy together with its low side effect profile suggest that it should be considered as a first-line treatment for pain and/or as an adjunct treatment to opiates rather than as a medication of last resort."
In other words, if we want to reduce the reliance on opioids, with all their negatives, for the management of pain in an aging population, we should be easing access to medical marijuana. With medical marijuana legal in 25 states, we're halfway there.