Iran is reportedly about to execute a hundred drug offenders, Florida's Volusia County becomes the latest locale to decriminalize pot in the Sunshine State, Oregon's governor signs pot bills into law, New Mexico's governor signs a naloxone (Narcan) bill into law, and more.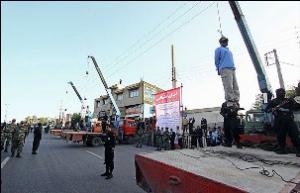 Marijuana Policy
Legislator's Speech Kills West Virginia Bill to Increase Marijuana Sentences. Delegate Bill Flanigan (R-Morgantown) took to the House floor last week to explain how medical marijuana helped him deal with cancer, and immediately after his speech, the House voted 59-40 to kill House Bill 4576. The bill would have increased penalties for bringing drugs, including marijuana, into the state. The bill would have increased the mandatory minimum sentence for importing marijuana from one to five years and increased the maximum sentence from five to 15 years.
Florida's Volusia County the Latest to Decriminalize. Following the path of counties and municipalities in South Florida and the Tampa Bay area, Volusia County has become the first in Central Florida to decriminalize small-time pot possession. The county council voted unanimously to grant police discretion to ticket people arrested with 20 grams or less instead of arresting them. The ordinance will take effect April 1 and cover unincorporated Volusia, including the beaches, which are under county control.
Oregon Governor Signs Marijuana Bills. Gov. Kate Brown (D) has signed into law two bills that adjust the state's legal marijuana program, Senate Bill 1598 and House Bill 4014. The former makes it easier for some medical marijuana growers to enter the legal marijuana market by removing some bureaucratic requirements, while the latter removes a two-year residency requirement for industry participants.
Medical Marijuana
South Dakota Medical Marijuana Initiative Gets Second Chance. State officials will recheck the validity of signatures on the New Approach South Dakota medical marijuana initiative after proponents officially challenged an earlier count that found they came up short on signatures. Last month, state officials disqualified the initiative after a 5% random sample found that nearly half of them were invalid. Secretary of State Shantel Krebs said last Friday that her office will conduct a new 5% random sampling "in order to maintain confidence in the petition process." It's still a long shot—the group gathered 16,543 raw signatures and needs 13,871 to qualify for the ballot. That means if even 20% of the raw signatures get thrown out—not an at all unusual event—the initiative effort will fail.
Asset Forfeiture
Florida Senate Unanimously Passes Civil Asset Forfeiture Reform Bills. The Senate last Friday approved Senate Bill 1044, which does not end civil asset forfeiture, but tightens procedural and evidentiary requirements for law enforcement. Companion legislation, House Bill 889, has passed all committees and now awaits a House floor vote. The two bills are identical and will head for the desk of Gov. Rick Scott (R) if the House bill passes.
Harm Reduction
New Mexico Governor Signs Opioid Overdose Prevention Bill. Gov. Susanna Martinez (R) last Friday signed into law House Bill 277, sponsored by Rep. Terry McMillan (R-Las Cruces). The new law allows for the possession, distribution, and storage of the opioid overdose reversal drug naloxone (Narcan®) and removes fears of civil liability for people using it to save lives. It has an emergency clause, which means it goes into effect immediately.
Boston to Set Up Safe Space for Heroin Users. It sounds pretty much like a supervised injection facility without the injecting. The Boston Health Care for the Homeless Program plans to open this month a room with a nurse, some soft chairs, and basic life-saving equipment for heroin users to sit and chill under medical supervision after injecting elsewhere. "It's not a place where people would be injecting," the group's medical director, Jessie Gaeta said. "But it's a place where people would come if they're high and they need a safe place to be that's not a street corner, and not a bathroom by themselves, where they're at high risk of dying if they do overdose."
International
Iran Set to Execute Another 100 Prisoners for Drug Crimes. The Norway-based Iran Human Rights Groups said last Friday that sources in and out of Ghezel Hessar prison have confirmed that around a hundred prisoners' death sentences had been reviewed and approved by the country's Islamic Revolutionary Court, and that the inmates have been told they should prepare for death. The group estimates that Iran has hung more than 1,800 people for drug offenses in the past five years.