President Obama keeps chipping away at the federal drug prisoner population, Weldon Angelos finally goes free, yet another poll has a national majority for marijuana legalization, the new Filipino president encourages vigilante violence against drug dealers, and more.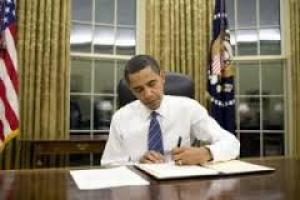 Marijuana Policy
Another National Poll Has Majority Support for Legalization, Near Unanimous Support for Medical Marijuana. A Quinnipiac University poll released Monday has support for marijuana legalization at 54%, with 41% opposed. That's in line with a bevy of polls in the past couple of years showing majority support for legalization. The new Quinnipiac poll also had support for medical marijuana at 89%, with only 9% opposed, and 87% support for allowed Veterans Administration doctors to recommend it to vets with PTSD.
Anti-Legalization Forces Seek Backing of Rightist Casino Billionaire. The anti-reform group Smart Approaches to Marijuana, led by Kevin Sabet, is seeking funding from Nevada casino billionaire Sheldon Adelson, who contributed millions of dollars to defeat a medical marijuana initiative in Florida in 2014. Adelson is also a major funder of Republican presidential candidates, having spent $15 million supporting Newt Gingrich in 2012.
Massachusetts Supreme Court to Hear Challenges to Legalization Initiative. The high court is set to hear two challenges Wednesday to the legalization initiative from the Campaign to Regulate Marijuana Like Alcohol. One challenge alleges that organizers have misled voters about its ramifications and claims it would allow for the sale of GMO marijuana, while the other challenge says the words "marijuana legalization" in the initiative's title are misleading because it doesn't legalize it for people under 21.
Medical Marijuana
Montana Initiative Coming Up on Signature Deadline. Backers of Initiative 182, which seeks to restore the state's medical marijuana program demolished by the legislature in 2011, say they have some 30,000 raw signatures as a June 17 deadline draws near. They need 24,000 valid signatures to qualify. Initiative watchers generally assume as many as 30% of gathered signatures could be invalidated. If that were the case right now in Montana, the initiative would not make the ballot.
Drug Testing
Michigan Supreme Court to Hear Case of Mother Jailed for Refusing Drug Test in Son's Juvenile Case. The state's high court will hear the case of Kelly Michelle Dorsey, who was jailed for contempt of court in 2012 for refusing to take a drug test in a case involving her minor son, because the son was under the court's jurisdiction, not Dorsey. An appeals court held that forcing mothers to submit to drug tests in such cases was unconstitutional, but upheld a finding a contempt of court for her refusal. Now, the state Supreme Court is set to weigh in.
Sentencing
Obama Commutes Sentences for 42 More Drug Offenders, Including 20 Lifers. President Obama last Friday added another 42 names to the ever growing list of federal drug prisoners whose sentences he has commuted. That brings to 348 the number of commutations Obama has handed out, more than the last seven presidents combined. For a list of names of the newly commuted, go here.
Mandatory Minimum Sentencing Poster Child Weldon Angelos Freed After 12 Years. The Salt Lake City rap and hip hop label owner and small-time pot dealer was sentenced to 55 years in federal prison because he carried a pistol strapped to his ankle during marijuana deals. Now he is a free man after prosecutors moved to cut his sentence.
New Hampshire GOP Senator Wants to Jack Up Mandatory Minimums for Fentanyl. Sen. Kelly Ayotte (R-NH) is planning to offer an amendment to the National Defense Authorization Act this week that would vastly increase mandatory minimums for fentanyl. Currently, it takes 100 grams of a mixture containing fentanyl to garner a five-year mandatory minimum; under Ayotte's proposal, it would only take half a gram. The Drug Policy Alliance and Families Against Mandatory Minimums are among those opposing the move.
International
Israeli Security Minister Opposes Marijuana Decriminalization. Public Security Minister Gilad Erdan said Sunday he opposes such a move because it could increase traffic accidents and police have no way of preventing drugged drivers from getting behind the wheel. He also said that policies were already lax and the decriminalization would amount to legalization. Opposition from Erdan and Health Minister Yaakov Litzman has delayed a vote on a decriminalization bill that was supposed to take place Sunday.
Philippines President Encourages People to Kill Drug Dealers. President Rodrigo Duterte used a televised speech Saturday night to encourage citizens to shoot and kill drug dealers who resist arrest. "Please feel free to call us, the police, or do it yourself if you have the gun -- you have my support," adding, "Shoot him and I'll give you a medal." He also threatened to kill drug addicts. Duterte, the former mayor of Davao City, was reputed to have been involved with death squad killings. Apparently some Filipino voters wanted to hear that or didn't mind, since they just elected him president.