This article was produced in collaboration with AlterNet and first appeared here.
Before too long, when you sit down to enjoy your 2014 vintage Caymus Napa Valley Cabernet Sauvignon, you'll be able to pair your wine with a nice South Mendocino County Sour Diesel or maybe a Mendocino Covelo/Dos Rios OG Kush for a sip and smoke that hits all the high notes.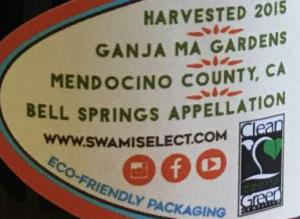 That's right, pot farmers in one of California's Emerald Triangle marijuana-growing counties are about to follow their brethren in the wine industry by seeking to capitalize on its reputation as a pioneer and still cutting-edge presence in American cannabis cultivation. As with Bordeaux in France or the Napa Valley nearby, the Mendocino Appellations Project wants the county's marijuana brand protected and promoted by designating denominations of origin that reflect both the county provenance and the distinct pot-growing microclimates that Mendo offers.
The first-of-its-kind project is riding a tide of local optimism not only about the future -- legalization is set to be on the ballot in California this year -- but also the present, now that the state legislature has belatedly passed the Medical Marijuana Regulation and Safety Act (MMRSA). Twenty years after voters first approved medical marijuana, the act will finally bring some clarity to an endeavor that has operated with many grey areas. It defines marijuana cultivation as an agricultural activity, creates state licensing requirements, and also makes it a crime to label or sell medical marijuana as grown in a county if it actually isn't.
These rules are similar to the ones that protect the state's wine regions, whose global reputations for fine wines are jealously guarded. But unlike wine, which is regulated by the federal government, California's pot's regulation defaults to the state under federal marijuana prohibition.
"You have a product coming out of prohibition, essentially. Marijuana growers are caught in a very difficult situation. It's a bit of a 'catch-22'. Even though it's legal at the state level, it's not legal at the federal level. They can't operate in the normal way by creating bank accounts and the like. Appellations will help show the legitimacy of what they are doing," wine legal expert Richard Mendelson told The North Bay Business Journal
Mendelson has played a key role in the development of Napa County's wine appellations for more than 30 years, and he's now lending his expertise to the Mendocino Appellation Project.
"Appellations can be really powerful because they can be a means to protect everything from the intellectual property, to the labor force, to the culture and history. They can be very rich vehicles for promotion, protection, and rural development," he added.
"Mendocino is the Napa Valley of cannabis. It is by far the most conducive place for outdoor cultivation," said project founder Justin Calvino. "Mendocino is a growing culture you won't find anywhere else."
Calvino began the project last year with a topographical map of the county, then proceeded to listen to growers and others in the industry. After surveying local farmers last fall, he created the appellation map, with 11 different micro-regions based on ecological factors, such as watershed and microclimate.
The proposed appellations are: Spyrock-Bell Springs, Covelo-Dos Rios, Long Valley-Branscomb-Leggett, Willits, Comptche, Ukiah Valley, North Mendocino Coast, South Mendocino Coast, Anderson Valley South Mendocino, Potter Valley, and Mountainhouse South Mendocino County.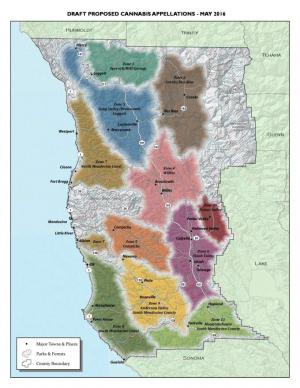 "I like the way he's gone about it, because he's factored in not just the natural elements, he's gone out and spoken to growers, asking the old-timers what they think, and is making revisions. He's being true to the history. This is a template for the future, creating a dossier of physical and human, historical factors -- I applaud him for that," Mendelson said.
There are issues yet to be resolved, including whether to brand the name "Mendocino" or focus on smaller areas, the setting of environmental standards, and the thorny philosophical question of whether marijuana grown indoors can lay claim to terroir, a wine term that means the specific environmental conditions, especially soil and climate, that give a wine its unique characteristics. Can a crop grown with hydroponics in a controlled indoor environment have a terroir?
In any case, the adoption of appellations should be good for consumers and good for the industry.
"This is what makes wine so much fun for consumers, to experiment and to be able to go from the larger country and regional levels all the way down to the specific vineyard designation, and see, as a consumer if you can spot those differences and understand the effect of terroir on the final product," Mendelson said.
"Tourism is big. We want people to come out and visit our tasting rooms. We want the debate and the talk about our appellations, and which one does it better than another," he said.
Calvino also sits on the board of the California Growers' Association and has been asked to lead a group working on developing appellations statewide. He said he is looking a neighboring Humboldt County next.