Foes challenging the narrow legalization victory in Maine got their recount going today, patients take to the courts in Arizona and to the streets in Michigan, Seattle health care professionals do a die-in for safe injection sites, Ireland takes another step toward medical marijuana, and more.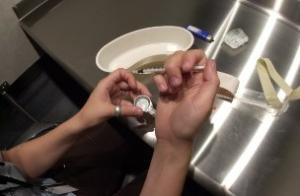 Marijuana Policy
Maine Legalization Initiative Recount Begins. The Question 1 initiative legalizing marijuana won by less than 1% of the popular vote, garnering 381,692 votes to the opposition's 377,619 votes, a difference of 4,073 votes. Citing the narrow margin of victory, foes called a recount, and it began Monday. The recount could take up to a month, delaying putting legalization into effect until it is completed.
Medical Marijuana
Pair of Arizona Patients Sue Over Fees. Attorneys for patients Yolanda Daniels and Lisa Becker filed suit last Friday to force a reduction in the annual fee for registration cards that patients are legally required to obtain. The state health department is charging $150 a year, even though it has nearly $11.5 million in its medical marijuana account. "In a time when medication is more expensive than ever, the state should be helping to make it cheaper for Arizonans," the patients' attorney argued. "The state is deliberately squatting on the excess fund instead of refunding it to patients or using it in furtherance of the Arizona Medical Marijuana Act, such as to help patients."
Michigan Protestors Denounce Kent County Dispensary Raids. A couple of dozen people gathered outside the Plainfield Township Hall last Friday to protest a series of raids last Monday that shuttered three dispensaries in Plainfield. Demonstrators said they have nowhere to go to get their medicine, but Plainfield officials countered that dispensaries had been banned there since 2011.
Harm Reduction
Seattle Nurses, Doctors Do Die-In at City Hall in Protest Calling for Safe Injection Sites. As Seattle officials ponder whether to move toward allowing a safe injection site, doctors and nurses are turning up the heat. Last Friday, more than 30 members of Health Care Workers for Supervised Consumption Spaces held a die-in at City Hall to imitate the corpses that will be created if safe injection sites aren't allowed. City officials have been generally sympathetic to the idea, and a Seattle/King County opioid task force recommended the move in September.
International
British Town to Allow Drug Testing at Clubs. In a harm reduction first for the United Kingdom, a town in Lancashire will be the first in the country to offer testing of drug samples provided by club-goers at night clubs. The tests will examine samples of cocaine and MDMA to test the strength and purity of the drugs in a bid to reduce deaths related to "adulterated or highly potent" drugs. The National Police Chief's Council reportedly said the scheme could be useful but was still not yet endorsed on a national basis.
Ireland Takes Another Step Toward Medical Marijuana. The Dáil Éireann, the lower house of parliament, last Thursday approved an amendment allowing for the medicinal use of marijuana. But the measure still has to undergo another round of approval before it becomes law.
Poll: More Irish Support Marijuana Legalization Than Not. As the parliament ponders medical marijuana, a new poll finds that more Irish than not support full-blown legalization. A poll asking "Should cannabis be legalized for recreational use?" had 48% saying yes, 41% saying no, and 11% undecided.