Two federal agencies make drug policy-related announcements, Syrians are fleeing the ISIS caliphate to work in the hash fields of Lebanon, and more.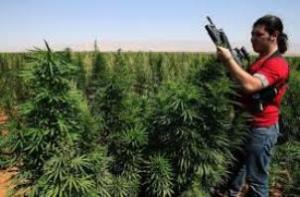 Medical Marijuana
DEA Eases Requirements for Natural Marijuana-Derived Research. The DEA today eased some restrictions on research evaluating cannabidiol (CBD) for medicinal use. The changes will relax some requirements imposed by the Controlled Substances Act on use of CBD in specific US Food and Drug Administration-approved research protocols. The changes are in effect immediately.
New Hampshire to Begin Issuing Medical Marijuana ID Cards. State officials said today that they will begin issuing ID cards to registered medical marijuana patients beginning Monday. While dispensaries in the state won't open until the spring, people with the ID cards will be able to buy medical marijuana in neighboring states that have reciprocity.
Asset Forfeiture
Justice Department Suspends Asset Forfeiture Equitable Sharing Program. The Justice Department released a memorandum Monday notifying law enforcement agencies that it is temporarily suspending the equitable sharing program asset forfeiture funds because of tight budgets. This means law enforcement agencies will no longer get a share of federal funds confiscated through civil asset forfeiture, and that means law enforcement agencies have lost a considerable financial incentive to turn drug busts over to the feds. Many state laws require seized funds to be allocated to the general fund or education funds, and law enforcement agencies used the federal equitable sharing program to get around those laws. Under the federal program, the local seizing agency got 80% of the haul.
International
Syrians Flee ISIS to Harvest Hash in Lebanon. Refugees from Raqqa, the capital of the ISIS caliphate, are fleeing across the border to Lebanon, where they can get work in that country's booming cannabis trade. Their work in the trade places them in danger of retribution from the jihadists if they return home, they said. "If Islamic State back home knew we work with hashish, they would cut us" with knives, said one refugee.