San Francisco prepares for marijuana legalization, a Kentucky state senator wants it there too, Ohio legalizers spent millions losing last month, a federal drug and mental health treatment bill passes the Senate, and more.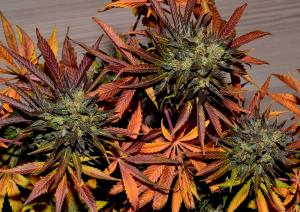 Marijuana Policy
Jeb Bush Now Supports Decriminalization, But Still Calls Pot a "Gateway Drug." GOP presidential contender Jeb Bush last Friday said he could live with decriminalization. "It's one thing to say we should have decriminalization of marijuana. I support that," he said in an interview with Joe Mathieu of Boston' WBZ NewsRadio. While that is an advance for the former Florida governor, he added that he rejected legalization and brought out the discredited gateway theory for support. "Marijuana is a gateway drug just as opiates are a gateway drug," Bush continued. "Of course it is, every study shows that."
Kentucky Senator Files Marijuana Legalization Bill. Sen. Perry Clark (D-Louisville) announced last Friday that he has pre-filed the Cannabis Freedom Act, which would repeal pot prohibition and replace it with a regulatory framework that would "promote public safety and responsible cannabis consumption by persons over 21 years of age." The bill will be considered during the 2016 legislative session, which starts January 5.
Michigan Supreme Court Okays Grand Rapids Decriminalization Ordinance. The state high court has rejected a challenge to the ordinance's legality from Kent County Prosecutor William Forsyth. The ordinance, approved by voters in 2012, makes possession or sharing marijuana a civil infraction, punishable only by fines. Forsyth had argued that the ordinance was an illegal restriction on his power to enforce state drug laws, but he lost in circuit court and the Court of Appeals. And he lost again, and finally, when the state Supreme Court refused to hear his appeal.
Ohio Legalizers Spent Nearly $22 Million in Failed Initiative Campaign. Ouch, that's gotta hurt! ResponsibleOhio and its deep-pocketed backers, who hoped to win monopolistic marijuana concessions, spent more than $21 million in their campaign, only to get trounced last month. The campaign spent $12 million between July and October and had burned through nearly another $10 million just getting on the ballot.
Eyeing Looming Legalization, San Francisco Creates Marijuana Task Force. Last week, the Board of Supervisors' Rules Committee voted to appoint 11 people to a task force aimed at helping to guide the city's policies in the face of seemingly inevitable marijuana legalization.
Medical Marijuana
Michigan Medical Marijuana Activists Stop Dispensary Bills. Sen. Rick Jones (R-Grand Ledge) has given up on moving his medical marijuana dispensary bills in the face of strong opposition by activists. The link has all the juicy details.
Utah Poll Has Strong Support for Medical Marijuana. Some 61% of Utahns support legalizing medical marijuana, according to a new poll from Dan Jones and Associates. The poll comes as Sen. Mark Madsen (R-Saratoga Springs) says he will reintroduce a medical marijuana in the coming session. His bill last session failed by one vote in the Senate.
Heroin
New Hampshire Attorney General Will Seek Murder Charges in Heroin Overdoses. Attorney General Joe Foster (D) says he plans to aggressively seek murder charges against dealers of drugs involved in overdose deaths. "The message to dealers is: If you sell this stuff here and we can (figure) the facts out, you will be going to jail for a very, very long time," Attorney General Joe Foster said. Overdose deaths are expected to top 400 in the state this. Foster also said he is seeking $115,000 for a new prosecutor for drug cases and exploring a federal grant to hire another drug prosecutor.
Drug Policy
Federal Synthetic Drugs Bill Filed. Rep. John Katko (R-NY) has filed HR 4229, which seeks to "address the continued threat posed by dangerous synthetic drugs by amending the Controlled Substance Act" to make it easier to go after drug analogs. It also calls on the US Sentencing Commission to ensure that sentences for violations are "appropriately severe."
Drug Treatment
Comprehensive Justice and Mental Health Act Passes Senate. The act, S 993, sponsored by Sen. Al Franken (D-MN), passed the Senate last Thursday. It is aimed at facilitating collaboration among the criminal justice, juvenile justice, veterans treatment services, mental health treatment, and substance abuse systems. The bill now goes to the House.
International
Colombian Senate Approves Medical Marijuana. In a plenary session last Friday, the Colombian Senate approved a bill legalizing medical marijuana. President Santos had said he would do it through an executive order, but the Senate decided not to wait. The bill now moves to the Chamber of Deputies, where it will be debated early next year.
(This article was prepared by StoptheDrugWar.org's lobbying arm, the Drug Reform Coordination Network, which also pays the cost of maintaining this web site. DRCNet Foundation takes no positions on candidates for public office, in compliance with section 501(c)(3) of the Internal Revenue Code, and does not pay for reporting that could be interpreted or misinterpreted as doing so.)