This article was written in collaboration with AlterNet and first appeared here.
A man who died after being hogtied by police in South Haven, Mississippi, earlier this year, was killed by "complications of LSD toxicity," the State Medical Examiner office announced Tuesday, ruling the death "accidental" in an official autopsy report. But given that there are no known cases of fatal LSD overdoses, the examiner's findings are hard to credit.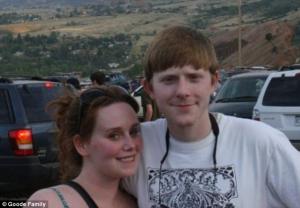 The family of Troy Goode isn't buying it. And they have their own, independent autopsy findings and the science of psychedelics to back them up.
Goode, his wife, and friends were in the parking lot of a Widespread Panic concert before the show when he began behaving erratically after taking several hits of LSD. His wife attempted to drive him home, but at some point, he got out of the car and began creating a disturbance. Police were called, and they chased and arrested him, hogtieing him face down on a stretcher. He was charged with resisting arrest, then taken in an ambulance to a hospital, where he died two hours later.
Last month, Goode's family and their attorney, Tim Edwards, cited an independent autopsy report that found Goode died after being hogtied and left prone for an extended period. That stress position caused him to have trouble breathing and, as his heart attempted to compensate, it went into cardiac arrhythmia.
"He was suffocating. His heart increased into what is called tachycardia," Edwards said. "There is no scientific basis to attribute his death to LSD. This was lethal force, putting someone in a prolonged hogtied position," Edwards said. "This was not a situation where a 300-pound man attacked a police officer in the dark. This was a science nerd."
At the time, Edwards said the family was asking the Justice Department to open a civil rights investigation into Goode's death and that the family planned to file a lawsuit in January seeking compensation and a ban on hogties.
The Goode family, now represented by attorney Kevin McCormack, isn't any happier today. McCormack said he was "shocked and surprised" by the official autopsy finding.
"It says the cause of death was due to complications resulting from LSD toxicity. My initial reaction when I read that was shock and surprise. As I mentioned numerous times, there's not a single reported death in all of the medical literature from the beginning of human time, not a single reported death due to LSD toxicity," said McCormack.
"In the medical literature there are cases where people took 1000 and 7000 times more LSD than Troy did and ended up fine," said McCormack. "I have no idea what they would mean by complications. What we do know is that LSD, even extremely high doses, is very unlikely to kill anyone and that hogtieing is extremely likely to kill someone," said McCormack.
"We know why Troy died, we know what caused it, and we know it was not LSD," said McCormack.
The widely-acclaimed drug information website Erowid has reviewed the evidence around LSD fatalities, and it backs up what the Goode family lawyers have been saying: "Put simply, LSD does not cause death at recreational or therapeutic doses… Fewer than a handful of human deaths have been tied in the medical literature to the pharmacological effects of LSD, and none of these deaths have been unquestionably attributable to LSD's actions."
Erowid is relying on the scientists:
"No well-documented human deaths resulting directly from the toxic effects of LSD itself have occurred, though LSD has been implicated in accidental deaths, suicides, and homicides," Haddad and Winchester noted in 1990.
"LSD is not toxic in the biological sense," Dr. Paul Gahlinger wrote in his 2001 book "Illegal Drugs: A Complete Guide to Their History, Chemistry, Use and Abuse."
"There have been no documented human deaths from an LSD overdose," a 2008 review of the scientific literature by Passie et al concluded.
Erowid expanded on the accidental death theme to note that some deaths have been associated with inebriated or combative behavior, "including falling or jumping from a height or dying after beaten by police."
Goode was beaten by police, bitten by a police dog, and then restrained. The official autopsy notes cuts to his cheek and chin, bleeding between his scalp and his brain, more cuts or scrapes on his chest, and three fractured ribs. Goode also suffered puncture wounds from a dog bite to his left arm and bruises on both wrists, both ankles, "multiple contusions on the lower left leg," and bruises and cuts or scrapes to his right thigh.
But it was the LSD that killed him, according to Deputy Chief Medical Examiner Erin A. Barnhart, M.D., who signed the autopsy report: "Based on the autopsy findings and current investigational information, the 30-year-old male died as a result of complications of LSD toxicity."
DeSoto County District Attorney John Champion is prepared to wrap it all up. He said Tuesday that, based on the evidence, there was no police misconduct. Now it's up to the family to decide whether to pursue other means of recourse.