A pair of marijuana polls have good news for DC, but not so good for New Mexico, there's a move on to get Dr. Molly Fry out of federal prison, Ohio employers are pushing drug testing for students, the EU sides with Bolivia -- not the US -- on that country's coca policy, and more. Let's get to it: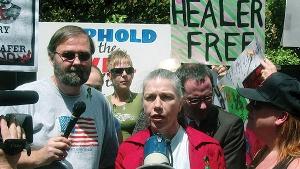 Marijuana Policy
New Poll Has DC Initiative at 65%. A new Washington Post/NBC News/Marist poll has the DC marijuana possession and cultivation legalization initiative Measure 71 winning easily with the support of nearly two-thirds of likely voters. That's the highest number ever polled for an actual legalization initiative. Click on the poll link for more information.
New Poll Has Legalization Coming Up Short in New Mexico. An Albuquerque Journal poll suggests it may be a good thing New Mexicans aren't voting on legalization this year. The poll asked whether respondents supported legalizing marijuana for adults with a tax and regulation scheme similar to Colorado. Only 44% were in favor, with 50% opposed. Click on the title link for more information.
Medical Marijuana
Change.org Petition to Free Dr. Mollie Fry. California medical marijuana advocate Dr. Mollie Fry is sitting in federal prison for providing the drug to sick patients. Supporters have organized a Change.org petition seeking a pardon for her. As of this writing, there are only 27 signatures. You can add yours by clicking on the title link.
Drug Testing
Ohio Industry Groups Urge Schools to Drug Test Vocational Education Students. The Mahoning Valley Manufacturer's Coalition and the Youngstown/Warren Chamber of Commerce have sent a letter to schools in Columbiana, Mahoning, and Trumbull counties urging them to drug test students who enroll in vocational training programs. While somewhere between 20% and 30% of school districts nationwide subject some students to drug testing, this is the first time we've heard of employers directly lobbying schools to do so.
International
European Union Agrees With Morales, Not Obama, on Bolivia's Coca Policy. The Obama administration this week certified that Bolivia had "failed demonstrably" to live up to US drug policy mandates, but the European Union has joined Bolivian President Evo Morales in strongly disagreeing. "In my opinion, the work we have achieved has been successful, the results as well are visible in the successful and sustained reduction of the coca production in the country, and successes as well related with the prohibition," said Timothy Torlot, head of an EU delegation in Bolivia. "My experience here, working with the Bolivians, is one of a government that seriously executes its work, that has proved its results, no need to talk with the US government about that," he added.
Non-Binding Referendum on Marijuana in Mexican State of Jalisco. The state of Jalisco, home to Guadalajara, the country's second largest city, has begun voting on a non-binding referendum on marijuana policy. The referendum asks whether medical marijuana should be legalized and whether personal possession limits should be increased. Voting takes place through Sunday. So far, medical marijuana is winning approval, but increasing possession limits is not. After the referendum, PRD legislator Enrique Velazquez will present a bill in the state congress.
Luxembourg Justice Minister Says It Is Time to Rethink Drug Policy, But Rules Out Marijuana Legalization. Justice Minister Felix Braz told the newspaper Luxemburger Wort that the country needs to rethink its drug policy, saying that criminalization and repression have not had the desired results. Braz pointed to increasing drug problems in the country. "I am convinced that we cannot help these people only through criminal justice measures," the Justice Minister said. "The fact that drug consumption increases steadily, leads us to the conclusion that we need to rethink our drugs policy. With an open spirit, we need to search for alternative solutions to get the problem under control," he added. But Braz also said that the coalition government of which he is a member is not going to legalize marijuana. Marijuana is effectively decriminalized in Luxembourg.