No decrim for Albuquerque, Washington's I-502 upheld, Florida medical marijuana initiative polls well, Virginia governor talks nice about medical marijuana, international libertarian student campaign against prohibition, and more. Let's get to it: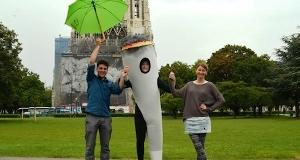 Marijuana Policy
Albuquerque Mayor Vetoes Decriminalization Measure. Mayor Richard Berry last Friday vetoed a measure that would have allowed residents to vote for decriminalization of small amounts of marijuana. He said he vetoed the measure because it included a tax hike and because marijuana is illegal under state and federal law. Two days earlier, the Santa Fe city council voted 5-4 to decriminalize.
Washington Judge Rules Cities Can Ban Pot Businesses, But Upholds I-502. Pierce County Superior Court Judge Culpepper ruled last Friday that the state's legalization initiative, I-502, does not override localities' authority to regulate businesses, including marijuana businesses, including effectively banning them through zoning and other regulations. By so ruling, the court avoided the potentially more explosive question of whether federal law preempts I-502.
Medical Marijuana
Princeton University Employee Told to Quit Using Medical Marijuana or Get Fired. A Princeton employee who has a long public history of marijuana activism and who is running for office on the Legalize Marijuana Party ticket has been told he must choose between using medical marijuana and keeping his job. New Jersey has a medical marijuana program. Dom DeZarn is set to meet with university human resource employees this week about the situation. He had informed university public safety directors that he intended to medicate on campus, but the university says employees have the right to have a drug-free workplace.
Florida Medical Marijuana Amendment Polling at 64%. A new Gravis Marketing poll has support for the Measure 2 medical marijuana constitutional amendment at 64%. Because it is a constitutional amendment, the measure needs the approval of 60% of voters to pass. Only 26% were opposed, with 10% undecided.
Virginia Governor Expresses Support for Medical Marijuana. Gov. Terry McAuliffe (D) last week used a question about legalizing marijuana to express his support not for legalizing for all adults, but for medical marijuana. He said he is not "yet" ready to support full legalization.
Drug Testing
After Overdose Death, University of Louisville to Drug Test Cheerleaders. The death of a 22-year-old cheerleader from a drug overdose has prompted the University of Louisville to embark on a drug testing program for them. It is an unusual move; most other schools do not require drug testing for cheerleading, which is not recognized as an NCAA-sanctioned sport.
International
OAS Drug Policy Roundtable in DC Next Monday. The Organization of American States (OAS) is holding a roundtable on "Multisectoral Perspectives on the Drug Problem in the Americas: The Challenge of Reducing Incarceration" next Monday in Washington, DC. Click on the link for speakers and more details.
International Libertarian Student Group Launches Global Campaign to End War on Drugs. Students for Liberty, which bills itself as "the world's largest libertarian student organization," has launched a campaign arguing that drug prohibition has led to a host of unintended consequences and highlighting some of those failures. The campaign has the support of US groups, including Law Enforcement Against Prohibition, the Marijuana Policy Project, Students for Sensible Drug Policy, and Reason magazine. During September, the group will release videos, infographics, and other materials making the case for ending prohibition.
Austrian Greens Youth Wing Launches Marijuana Legalization Tour. Starting last Saturday, the Austrian Young Greens are spending the next three weeks traveling around the country to advocate for marijuana legalization and regulation and to address broader drug policy issues. "It is now the time to convince parents, grandparents and friends that legalization is just reasonable," the Greens' Federal spokeswoman Diana Witzani said as she outlined the objective of the Young Greens.
Bids Are In for Uruguay Marijuana Suppliers. A total of 22 companies have submitted bids to supply marijuana to pharmacies under Uruguay's legalization law. The government has until September 12 to choose up to five of the bidders. They will be licensed for up to five years to grow up to two metric tons of marijuana each year. Marijuana should be available for sale to registered consumers at pharmacies early next year.
Mexico Says Drug Cartel Violence Decreasing. Mexican President Enrique Pena Nieto today proclaimed that homicides linked to Mexican drug trafficking organizations were down by more than a third between last September and July of this year. Prohibition-related homicides dropped 36%, while kidnappings declined by nearly 7%. Pena Nieto has made reducing the violence a centerpiece of his presidency. At least 80,000 have died since Pena Nieto's predecessor, Felipe Calderon, declared war on the cartels in 2006, and another 22,000 are officially listed as missing.
Mexican Cartels Considering New Alliance. The Mexico City daily Reforma reported last Friday that several drug trafficking organizations, including Los Zetas and the Juarez organization, are trying to create a "cartel of cartels." Members of the two groups, as well as the Jalisco Nueva Generation cartel and the remnants of the Beltran Leyva cartel allegedly met to discuss unification in June in Chihuahua.