Voters in Washington, DC, today overwhelmingly approved Initiative 71, which will make it legal for adults to possess and cultivate small amounts of marijuana in our nation's capital.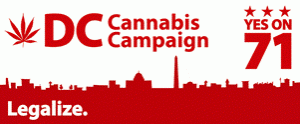 Partial election results from the
DC Board of Elections
Tuesday night had the initiative winning handily with around two-thirds of the vote. It was at 64.5% with 11% of precincts reporting at 10pm, the lowest figure of the day. That was enough for supporters to call the election.
[Update: Initiative 71 finished up with 64.7%.]
"You just made history," Dr. Malik Burnett, policy manager for the Drug Policy Alliance's DC-based Office of National Affairs, wrote in an email to supporters shortly after the polls closed. "Voters passed Initiative 71 in Washington, DC."
Along with long-time DC marijuana reformer, hemp entrepreneur, and political gadfly Adam Eidinger, Dr. Burnett co-chaired, the DC Cannabis Campaign. The effort met with some initial reluctance in the DC drug reform community and managed to make the ballot in large part thanks to early financial support from the activist-minded David Bronner of Dr. Bronner's Magic Soaps. Then DPA came on board, bringing more financial and other resources with it.
Because of District law, the initiative could not address legal marijuana commerce. That is the purview of the DC city council, which has already demonstrated its friendliness to marijuana law reform by passing decriminalization earlier this year. The council is already considering a bill to legalize, tax, and regulate marijuana commerce.
"With marijuana legal in the federal government's backyard it's going to be increasingly difficult for national politicians to continue ignoring the growing majority of voters who want to end prohibition," said Tom Angell of Marijuana Majority. "I've been saying for a while that 2016 presidential candidates need to start courting the cannabis constituency, and now the road to the White House quite literally travels through legal marijuana territory."
For the first time, race played a significant role in a legalization campaign, said DPA director of national affairs Bill Piper.
"This was the first legalization campaign in which the racial disproportionality of marijuana enforcement played a major role," he noted. "Initiative 71 sets the stage for the DC council to create a new model for legalizing marijuana – one that places racial justice front and center."
While the voters in DC have now spoken on marijuana legalization, Congress still has a chance to intervene, but that appears unlikely. Congress has 30 days to act or the measure becomes law, but that require a measure to override the will of District votes to be approved by both Houses and signed into law by the president.
Congress could also attach a rider to the DC appropriations bill barring all funding to implement the measure, but it appears that the bill, which should be approved next month or early next year, will be handled through a budget deal with no riders.
Legal marijuana is coming to the nation's capital.