It looks like Oregon will be the next state to legalize marijuana. The latest SurveyUSA poll, released last week, has the Measure 91 legalization initiative winning with 52% of the vote. Only 41% said they were voting against it.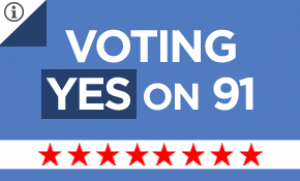 That is generally in line with other recent polls. Late in September,
SurveyUSA
had Measure 91 under 50%, but leading by four points, with 16% undecided. In mid-October, an
Oregon Public Broadcasting poll
had the measure winning with 52%, again with 41% opposed.
Only one recent poll, an Oregonian poll last week, had Measure 91 trailing. In that survey, 44% were in favor and 46% opposed, with 9% undecided. But the results were well within the poll's +/-5% margin of error, and it was also weighted toward older voters.
In this latest SurveyUSA poll, the measure was more strongly supported by men (56%) than women (49%) and more strongly supported by 18-to-34-year olds (71%) and 50-to-64-year-olds (61%) than voters 65 or over (36%). Voters in the 35-to-49 age group were split evenly, with 46% in support and 46% opposed.
Nearly two-thirds of Democrats (65%) and a healthy majority of independents (57%) were in favor of Measure 91, while fewer than a third of Republicans (32%) supported it.
Oregon is a mail-in ballot state. Most ballots have been cast already. The late polls should reflect what many voters have already decided. Stay tuned tomorrow night, though; it ain't over until it's over.