Hemp Bound: Dispatches From the Front Lines of the Next Agricultural Revolution by Doug Fine (2014, Chelsea Green Publishers, 145 pp., $17.50 PB)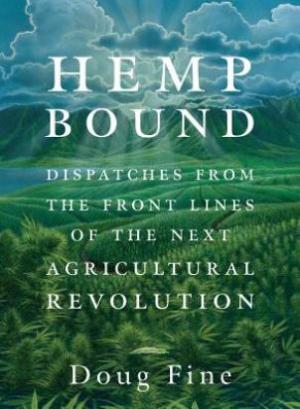 Hemp shouldn't have anything to do with drug policy. It's a cannabis sub-species low in THC so it doesn't get you high, but impressive as an industrial agriculture crop, one with uses in a broad and ever-increasing range of activities. The applications are numerous, and farmers in countries around the world, including just across the border in Canada, are making a living growing for an ever-expanding market, both here in the US and abroad.
Drug War Chronicle shouldn't be writing about hemp any more than it should be writing about corn or flax or soybeans. This should be the stuff of rural radio station farm shows and county agricultural extension office pamphlets.
But here we are -- because in what is arguably the single stupidest manifestation of the war on drugs, and the war on marijuana in particular, our farmers can't grow it. And that's because the DEA cannot be convinced to change its boneheaded position that hemp is marijuana. In fact, it even took getting slapped down by a federal appeals court to force the DEA to allow hemp products -- oil and seeds, fibers, biofuels -- to be imported into the country.
Still, the ban on US domestic hemp production is hurting American farmers, American agriculture, and the American economy. Farmers in North Dakota can stare across that imaginary line in the prairie and see their Canadian counterparts pocketing $250 an acre in what is a billion-dollar a year industry north of the border. Meanwhile, the Chinese are now years ahead of us in the tech for "cottonizing" hemp; making it a soft, desirable fiber.
All that's standing in the way is the DEA. North Dakota is among 13 states that have already passed laws defining hemp as distinct from marijuana and removing barriers to its production. And now, with the recent passage of the federal farm bill complete with a hemp amendment authorizing universities and agriculture departments in those 13 states to produce hemp for research purposes, hemp is about to bust out of the gate.
It's not quite there yet. That's going to take the DEA having a change of heart -- fat chance -- or, increasingly more likely, an act of Congress. There are hemp bills in both Houses this session, and while I would be surprised if they passed this year, it's coming. It's coming both because of rapidly changing attitudes about marijuana and because it is just too damned stupid to shoot ourselves in the foot any longer by letting everybody else but us grow this valuable agricultural commodity.
And Doug Fine is here to cheer it on. The veteran journalist (and New Mexico goat farmer with an organic bent) came to hemp the way many of us have -- through marijuana -- as he researched his third book, Too High to Fail: Cannabis and the New Green Economic Revolution. Now, with Hemp Bound, he's embraced an enthusiastic new role as an apostle of weed's country cousin. He's taken up the mantle of Jack Herer, but with more rigorous scientific backing, and while he doesn't want to shout out "Hemp will save the world!" one gets the definite sense that he thinks it's really going to help.
And he's done the research to back his claims. Fine interviews people in all aspects of the hemp industry, from Canadian farmers, scientists, and government officials to a Denver hemp-powered limo driver, a Dutchman whose company manufactures hemp fiber panels for the European luxury car market, and a Brit whose company uses hemp as a building material. The extent of the global hemp industry is truly eye-opening, and Fine is very seriously urging us here in the US to quit screwing around and get on the bandwagon.
Hemp Bound is not only informative and exciting, it's a fun read. Fine writes with passion, verve, and humor, and a sharp eye for bullshit. The chapters are fact-filled, but short, and are interspersed with interviews with the various players. And he gets bonus style points for managing to use the word "Saskatchewanian" (let that roll off your tongue), although there are style points foregone by using "separate the wheat from the chaff" instead of a hempier "separate the bast from the hurd" (if that's the correct analog; I defer to the true hemp experts here).
Mostly, Hemp Bound is a plea for us to take advantage of this plant. Fine waxes missionary over its multiple applications -- as he notes, a Popular Science article from the 1930s cited 25,000 industrial uses -- which I like to simplify and summarize as "The Three Fs" -- food, fiber, and fuel. And, if Fine and the people he talks to are correct, he's got good reason to be enthusiastic. With hemp, one can do good (by producing healthy, sustainable products with few nasty inputs and reducing reliance on petroleum products) and do well (make some money) at the same time.
But Hemp Bound is also an introduction to hemp and a how-to manual for American farmers thinking about making the leap. I come from an agricultural state. I know real live farmers. They are skeptical and tend to smirk at hippies, but they can also look around their acreages and see the ditch weed. Guys who are struggling to make a living with a thousand acres of corn and soybeans may be amenable to hemp if they think they can make a go of it. The profit is only $250 an acre, but when you have a thousand acres, that adds up, and farmers can count.
Fine speaks directly to these guys, some of whom are going to be the pioneers in America's next hemp boom. He can talk the talk that farmers talk. I think Hemp Bound needs to get in the hands of a lot of farmers, and I've made arrangements to see that it gets to a couple I know in central South Dakota. It also needs to get in the hands of legislators, state and university ag departments, and anyone else interested in starting our hemp revolution. We have some catching up to do, and Hemp Bound is our handbook.