Washington state should see marijuana retail stores open in July after license lottery winners were announced, limited CBD medical marijuana bills continue to move, a Washington state family of patients faces a federal trial, and the OAS wraps up its drug meeting in Washington, DC. And more. Let's get to it:
Marijuana Policy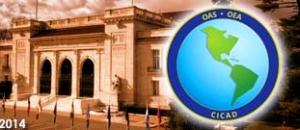 Colorado Cannabis Credit Union Bill Modified Into Study Bill
. A bill to create credit union-style financial institutions to handle money for the state's marijuana industry has been turned into a study bill.
House Bill 14-1398
was amended in the House Finance Committee Thursday evening. Rep. Kevin Priola (R-Henderson) said he offered the amendment because he didn't feel comfortable approving a first-in-the-nation policy on short notice as the legislative session winds down. The session ends next week.
Colorado Bill to Seal Criminal Records for Minor Marijuana Convictions Fails. A bill to seal criminal records for some minor marijuana convictions died in a Senate committee Thursday. Senate Bill 14-218 was defeated in the Appropriation Committee after having been amended to apply only to crimes that were considered petty offenses before legalization. Advocates had hoped the bill could open the door to a broader sealing of marijuana-related convictions.
Washington State Announces Winners of Marijuana Store Lottery. The Washington State Liquor Control Board has announced the winners of the lottery for marijuana retail licenses. Some 334 stores will be licensed, but there were 1,174 applicants; thus, the lottery system. Some jurisdictions with little or no competition didn't require lottery participation, but most had multiple applications for the same spot. The board says it expects to start issuing retail licenses no later than the first week of July, so stores could be open there by the end of that month.
Medical Marijuana
Florida Legislature Approves Limited CBD Medical Marijuana Bill; Governor Says He Will Sign It. In something of a surprise move, the House yesterday approved a bill allowing the use of CBD cannabis oil for epilepsy. Senate Bill 1030 then went back to the Senate today, which approved it on the final day of the legislative session. Gov. Rick Scott (R) surprised supporters and told reporters late Thursday that if they pass it, he will sign it.
Latest Version of Minnesota Medical Marijuana Bill Bans Smoking It. The Senate Finance Committee has approved a medical marijuana bill, but one that doesn't allow patients to smoke it. Senate File 1641 would allow patients to use a vaporizer in non-public places, though. Sponsor Sen. Scott Dibble (DFL-Minneapolis) said he reluctantly included the smoking prohibition to appease opponents. Meanwhile, the sponsor of the House version of the bill, House File 1818, Rep. Carly Marlin (DFL-Hibbing) has now modified her bill to make it a limited clinical trial bill. It would also prohibit smoking. Medical marijuana advocates are split on the move, with some saying they feel betrayed. Minnesota is proving an awfully tough nut to crack when it comes to medical marijuana.
More Than Half of Oregon Cities and Counties Have Dispensary Moratoriums. The Oregon Health Authority on Thursday released a list of local governments that have imposed moratoriums on medical marijuana dispensaries. According to the state, 131 cities and 25 counties enacted moratoriums on dispensaries. Oregon has 242 incorporated cities and 36 counties. Oregon passed a law regulating dispensaries, but localities could enact moratoriums until yesterday. Those moratoriums can only extend through May 2015.
Pennsylvania Governor Now Supports Limited CBD Medical Marijuana Bill.Gov. Tom Corbett (R) remains opposed to legalizing marijuana for medical use but now makes one exception: the use of a marijuana extract to treat severe seizures in children, his office said Thursday. Corbett's office first confirmed to The Associated Press that the Republican governor had met with several parents to tell them in person about his decision. The move came a day before patients and their families had vowed to stage at a sit-in at his office.
Washington State Family of Medical Marijuana Patients Fights Federal Drug Trafficking Charges, Faces Decades in Prison. A Kettle Falls family and a close friend are being tried as drug traffickers by federal prosecutors, even though they were in compliance with state medical marijuana laws and even though they don't appear to meet Justice Department criteria for prosecution. Larry Harvey, his wife, their son and his wife, and a family friend have refused plea offers that would have seen them sent to prison and are now preparing for trial. The Huffington Post has an extensive report; just click on the link.
Harm Reduction
Missouri Legislature Passes Bill to Provide Overdose Reversal Drug to Police and First Responders. The legislature Wednesday night gave final approval to House Bill 2040, which will allow police and emergency first responders to carry and administer the opiate overdose reversal drug naloxone (Narcan). No word on if the governor intends to sign the bill into law.
International
OAS Drug Commission Concludes Biannual Conference. The Inter-American Drug Abuse Control Commission (CICAD) of the Organization of American States (OAS) concluded on Thursday its 55th Regular Session with a review of current drug policies in the hemisphere, in compliance with the mandate that the hemispheric institution received from the leaders of the region at the Summit of the Americas in 2012. Secretary General Jose Miguel Insulza highlighted the contributions that the hemispheric institution has made to the global drug problem, and called both the Report on the Drug Problem in the Americas (Analytical Report and Scenarios Report), and the Declaration of Antigua Guatemala adopted by all Member States of the OAS at the 2013 General Assembly in in Guatemala, that calls for a Special General Assembly focused on the discussion of the issue, "substantial contributions to the discussions on this topic that are being developed around the world." Insulza added that the conclusions of the Special General Assembly that the OAS will hold on the world drug problem in September in Guatemala "will surely represent a major contribution to the debate on drug policy that the United Nations will undertake in 2016."