The Big Dog opines on marijuana, a California sentencing reform initiative qualifies for the ballot, the DC legalization initiative looks poised to make the ballot, municipal decrim initiative campaigns are underway in New Mexico's largest cities, the drug war is driving grand jury indictments in an East Texas county, and more. Let's get to it: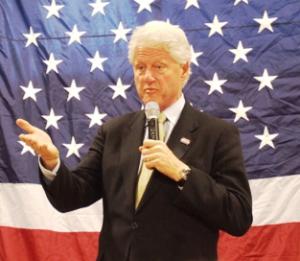 Marijuana Policy
DC Legalization Initiative Poised to Make Ballot. The DC Cannabis Campaign is reporting that it has gathered more than 60,000 signatures to place its initiative to legalize home-growing and possession of marijuana on the November ballot. It only needs 22,600 valid voter signatures to qualify. The signature-gathering period ends next week.
Albuquerque, Santa Fe Decriminalization Initiatives Begin Signature-Gathering. Organizers of municipal decriminalization initiatives in Albuquerque and Santa Fe, New Mexico, began signature-gathering last Saturday. The Drug Policy Alliance's political action arm, Drug Policy Action, is behind the effort. Some 5,700 signatures are needed in Santa Fe and 11,000 in Albuquerque.
Bill Clinton Talks Pot. Former President Bill Clinton was asked on Meet the Press Sunday whether "giving pot a chance" would help governments raise revenue. Here's his response: "Rocky Mountain high?" Clinton quipped. "Look, I think there's a lot of evidence to argue for the medical marijuana thing. I think there are a lot of unresolved questions, but I think we should leave it to the states, if there really is a time when there should be laboratories of democracy because nobody really knows where this is going. Are there adequate quality controls? There's pot and then there's pot. What's in it? There's all these questions, and I think that I like where it is now. If a state wants to try it, they can. And then they'll be able to see what happens."
Washington State Faces Marijuana Shortages, High Prices. With the first retail marijuana shops slated to open in less than 10 days, Washington state is facing a legal marijuana shortage, which is expected to drive up prices. Only 79 of the more than 2,600 people who applied for growing licenses have been approved, and many of them aren't ready to harvest. Pounds being sold to retailers now are going for as much as $4,000, which comes out to $9 a gram before taxes. After a retailers' mark up, the 25% excise tax, and state and local sales taxes, gram prices could be in the $15-20 range -- above the price on the black market.
Medical Marijuana
Oklahoma Medical Marijuana Initiative Has More than 75,000 Signatures. The constitutional amendment medical marijuana initiative sponsored by Oklahomans for Health now has 75,000 raw signatures. The group needs 156,000 valid voter signatures to qualify for the November ballot. They have until August 17 to come up with more.
California Medical Marijuana Regulation Bill Advances, But Needs Work. A bill to regulate California's medical marijuana industry, Senate Bill 1262, passed the Assembly Public Safety Committee last Friday, but is described as "unworkable, incoherent, and unacceptable to most advocates." Committee approval was conditioned on working out the problems before hearings in the Appropriations Committee in August.
Sentencing
California Sentencing Reform Initiative Qualifies for November Ballot. The Safe Neighborhoods and Schools Act sentencing reform initiative has qualified for the November ballot, the secretary of state's office announced last Friday. Backed by San Francisco DA George Gascon and San Diego Police Chief William Landsdowne, the initiative would defelonize some drug possession offenses, as well as making some other crimes misdemeanors instead of felonies.
Law Enforcement
Drug War Accounts for Big Chunk of Upshur County, Texas, Grand Jury Indictments. The Upshur County Grand Jury returned its latest batch of indictments last week, and of the 26 indictments, 11 of them (43%) were for drug charges. Of the drug charges, six were possession of methamphetamine, three were meth sales, and two were for cocaine sales.
International
Crackdown on Anti-Cartel Vigilantes in Michoacan, Mexico. Mexican soldiers and police arrested 83 suspected vigilantes last Friday in Michoacan after they encountered them carrying unauthorized weapons. Among those arrested was Dr. Jose Manuel Mireles, one of the founders of the vigilante groups, which formed in response to harassment, extortion, and lawlessness perpetrated by the region's Knights Templar cartel. The vigilantes were supposed to have joined rural police forces, but Mireles and his men had not done that and had instead begun organizing a new vigilante group. He and his men were arrested when they set up roadblocks around the port city of Lazaro Cardenas.
Zambian Government Says No Marijuana Legalization. Responding to increasing calls for marijuana legalization to improve the economy, the government says no way. Home Affairs Minister Ngosa Simbyakula said last Friday that the government remains determined not to legalize marijuana. It would encourage drug use in the country, he said.