Overdose prevention is big news today as the drug czar chimes in in favor, more than a dozen congressmen call on Obama to re- or de-schedule marijuana, the Italian Supreme Court undoes a bad drug law, and more. Let's get to it: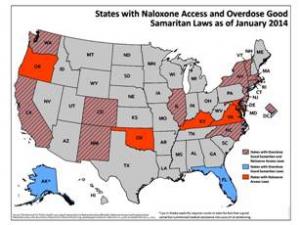 Eighteen Congressmen Call for Marijuana Rescheduling or Descheduling
. In a Wednesday
letter
to the White House, 18 congressmen urged President Obama to tell Attorney General Holder to ease up on marijuana. "We request that you instruct Attorney General Holder to delist or classify marijuana in a more appropriate way, at the very least eliminating it from Schedule I or II. Furthermore, one would hope that your Administration officials publicly reflect your views on this matter," said the letter signed by 17 Democrats and one Republican. The letter's lead author is Rep. Earl Blumenauer (D-OR).
Texas Governor Candidate Wendy Davis Says She Would Consider Decriminalization, Supports Medical Marijuana. Democratic gubernatorial candidate Wendy Davis told the Dallas Morning News editorial board she would consider decriminalizing marijuana possession and she supports medical marijuana. "We as a state need to think about the cost of that incarceration and, obviously, the cost to the taxpayers as a consequence of it, and whether we're really solving any problem for the state by virtue of incarcerations for small amounts of marijuana possession," Davis said. "I personally believe that medical marijuana should be allowed for. Certainly as governor I think it's important to be deferential to whether the state of Texas feels that it's ready for that."
Pennsylvania Governor Candidate Allyson Schwartz Calls for Decriminalization, Supports Medical Marijuana. Leading contender for the Pennsylvania Democratic Party gubernatorial nomination US Rep. Allyson Schwartz told the Philadelphia Weekly Monday she favors decriminalization and medical marijuana. "I do believe that marijuana is over-criminalized. And what we should do is decriminalize possession," she said. She also said she would sign a pending medical marijuana bill. "If it came to my desk, I would be supportive," she said.
New Mexico Senate Rules Committee Stalls Marijuana Legalization Resolution. State Sen. Gerald Ortiz y Pino (D-Bernallillo) saw his Senate Joint Resolution 10 stalled on a tie vote in the Senate Rules Committee Tuesday. The bill would have legalized possession for those 21 and over and set up a regulated system of marijuana commerce.
New Mexico House Committee Approves Study of Legalization Effects. A measure that asks the Legislative Finance Committee to study the effects of marijuana legalization in other states passed the House Appropriations and Finance Committee Tuesday. House Memorial 38, filed by Rep. Bill McCamley (D-Las Cruces), should now be headed for a House floor vote.
Arizona Decriminalization Bill for Small-Time Possession With Intent Filed. Rep. Mark Cardenas (D-Phoenix) has introduced a bill that decriminalizes possession with intent to sell of less than an ounce of pot, make possession of less than two pounds with intent to sell a petty offense, and make possession of more than two pounds with intent to sell a misdemeanor. The measure would also decriminalize growing if the yield is less than two pounds. The bill is House Bill 2474; it has been assigned to the House Judiciary and Rules committees.
Medical Marijuana
Medical Marijuana Supporters Rally in Oklahoma City. Supporters of medical marijuana led by Oklahoma NORML rallied at Oklahoma State Capitol today, and also did lobbying and training.
Harm Reduction
Drug Czar Calls for Overdose Antidote Drug to Be More Widely Available. The Office of National Drug Control Policy (ONDCP, the drug czar's office) called Tuesday for making the overdose antidote drug naloxone (Narcan) more widely available. "The Obama Administration is encouraging first responders to carry the overdose-reversal drug naloxone," ONDCP said in a blog post. "When administered quickly and effectively, naloxone immediately restores breathing to a victim in the throes of an opioid overdose. Because police are often the first on the scene of an overdose, the administration strongly encourages local law enforcement agencies to train and equip their personnel with this lifesaving drug… Used in concert with "Good Samaritan" laws, which grant immunity from criminal prosecution to those seeking medical help for someone experiencing an overdose, it can and will save lives."
Boston Mayor Calls for All First Responders to Carry Overdose Antidote. Boston Mayor Martin Walsh Tuesday responded to a spike in drug overdoses in the city by calling on all first responders to carry naloxone (Narcan), a medication used to reverse opioid overdoses. Both heroin and prescription opioid overdoses have jumped since 2009. Walsh announced a series of community workshops on the issue.
Indianapolis Police to Carry Overdose Antidote. Beginning next month, the Indianapolis Metropolitan Police will begin a pilot program where police officers are trained in the use of and will carry with them naloxone (Narcan) to reverse overdoses. Heroin overdose deaths have doubled in the city since 2011.
Maine Governor Opposes Bill to Increase Access to Overdose Antidote. Maine Gov. Paul LePage (R) opposes a bill to make the opioid antagonist naloxone (Narcan) more widely available, saying it would encourage drug use. The sponsor of the bill, Legislative Document 1209, Rep. Sara Gideon (D), said the governor's health policy advisor told her he would oppose the bill. "His main objection is his belief -- and I have to emphasize 'his belief' because there is no evidence that supports this at all -- his belief that increasing the availability of Narcan or naloxone will lead the drug user or drug abuser to have this feeling of invincibility," Gideon said. The Tea Party Republican governor last year vetoed bills to increase naloxone availability and create a Good Samaritan 911 law. Fatal heroin overdoses in the state quadrupled between 2011 and 2012.
Drugged Driving
New Mexico Drugged Driving Bill Advances. A drugged driving bill passed out of the House Transportation and Public Works Committee Tuesday. House Bill 190, filed by Rep. Bill Rehm (R-Albuquerque), would make driving with any detectable level of controlled substances, including marijuana and prescribed drugs evidence of driving under the influence of drugs. Such evidence would not automatically guarantee a conviction, but could be used to shore up prosecutions. The bill ran into opposition from, among others, the Drug Policy Alliance, which said it was likely to entrap regular users of marijuana or medical marijuana. The bill now moves to the House Judiciary Committee.
Synthetic Drugs
Missouri Synthetic Drugs Bill Advances. A bill that adds several specific substances to the state's list of banned synthetic cannabinoids advanced on a voice vote in the House Tuesday. House Bill 1051 is designed "basically to stay ahead of or try to keep up with new chemicals as they come out," said bill sponsor Rep. Shawn Rhoads (R-West Plains). The bill needs one more House vote before moving to the Senate.
International
Italian Supreme Court Strikes Down Law Equating Marijuana With Heroin. The Italian Supreme Court Tuesday struck down a 2006 law that removed the distinction between "soft" and "hard" drugs, stiffening prison sentences for marijuana and hash offenders, and filling the country's prisons with low-level pot offenders. The expectation is that thousands of them will soon be freed.
Groups Call for UN to Freeze Vietnam Anti-Drug Aid Over Death Penalty. Harm Reduction International and the anti-death penalty groups Reprieve and the World Coalition Against the Death Penalty have called on the United Nations to freeze anti-drug aid for Vietnam after it sentencing 30 people to die for heroin trafficking. In a letter to the Vienna-based UN Office on Drugs and Crime (UNODC), they said they had raised concern for several years about UN support for countries that impose the death penalty for drug offenses and that UNODC had internal human rights guidance that required it "to cease support for a country if it is feared the support may facilitate executions." UNODC had not replied as of Wednesday afternoon.
Marijuana Seeds Dropped from Slovak Controlled Substances List, New Drugs Added. President Ivan Gasparovic Tuesday signed legislation that will drop marijuana seeds from the list of illegal drugs in Slovakia because they do not contain cannabinoids. But the updated list will now include eight new drugs, including buphedrone, desoxypipradrol and 4-methylamphetamine, and it down-schedules GHB to allow doctors to prescribe drugs containing it.
(This article was published by StoptheDrugWar.org's lobbying arm, the Drug Reform Coordination Network, which also shares the cost of maintaining this web site. DRCNet Foundation takes no positions on candidates for public office, in compliance with section 501(c)(3) of the Internal Revenue Code, and does not pay for reporting that could be interpreted or misinterpreted as doing so.)