It happens on a regular basis. Police conducting no-knock drug raids shoot and kill residents, claim they feared for their lives, and walk away free. But now, the shoe is on the other foot.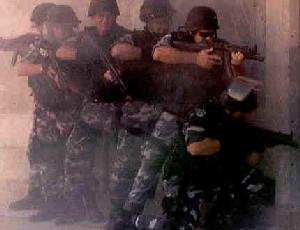 A Central Texas grand jury has
refused to return a murder indictment
against a Burleson County man who
shot and killed sheriff's Sgt. Adam Sowders
as Sowders led a group of law enforcement raiders through the door of the man's mobile home in a no-knock, pre-dawn drug raid on December 19.
The raiders had a search warrant for the home of Henry Goedrich Magee and were looking for marijuana plants and guns. But when they burst through the door, Magee, who was sleeping with his girlfriend, feared a home invasion robbery, grabbed a gun from his bed side, and opened fire, killing Sowders.
"This was a terrible tragedy that a deputy sheriff was killed, but Hank Magee believed that he and his pregnant girlfriend were being robbed," Magee's lawyer, renowned Texas criminal defense attorney Dick DeGuerin told the Associated Press. "He did what a lot of people would have done. He defended himself and his girlfriend and his home."
DeGuerin added that he could not recall another instance of a Texas grand jury declining to indict a defendant in the death of an officer.
The grand jury did indict Magee for the possession of a small number of marijuana plants and for having a gun while growing the pot plants. That charge is possession of marijuana while in possession of a deadly weapon, a third-degree felony. Conviction on a third-degree felony charge is punishable by from two to 10 years in state prison.
Burleson County District Attorney Julie Renken said after the grand jury decision that she thought the shooting had "occurred in a matter of seconds amongst chaos" and she thought the sheriff's office had done things correctly, "There is not enough evidence that Mr. Magee knew that day that peace officers were entering his home," she conceded.
Renken vowed to "fully prosecute" the remaining case against Magee, who has been jailed without bond in nearby Washington County. DeGeurin said Magee will likely be released soon, since he faces only the marijuana and gun charge.
This was all over some pot plants.