It is about to get more difficult to obtain popular pain medications based on hydrocodone, including widely prescribed drugs such as Vicodin. The DEA announced today that it is moving hydrocodone combination drugs from Schedule III of the Controlled Substances Act (CSA) to Schedule II.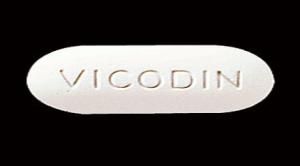 Drugs containing only hydrocodone were already placed on Schedule II, but drug combinations containing hydrocodone plus other substances, such as aspirin or acetaminophen, have been Schedule III since the CSA was passed in 1970.
The DEA will publish the final rule establishing the change in the Federal Register tomorrow. It will go into effect in 45 days.
This is the end result of a rescheduling request first submitted in 1999, and another indication of retreat from the looser prescribing of opiate pain medications that began about 15 years ago. It comes as prescription overdose deaths and rising levels of heroin addiction are sparking public and official concern.
"Almost seven million Americans abuse controlled-substance prescription medications, including opioid painkillers, resulting in more deaths from prescription drug overdoses than auto accidents," said DEA administrator Michele Leonhart. "Today's action recognizes that these products are some of the most addictive and potentially dangerous prescription medications available."
Moving these hydrocodone combination products to Schedule II will significantly tighten access to them. Patients will not be able to get refills on the same prescription, but will have to go back to the doctor's office to get another one. Doctors will no longer be able to call in prescriptions. And pharmacies will have to store the drugs in secured vaults.
"This is substantial," said Dr. Nathaniel Katz, assistant professor of anesthesia at Tufts University School of Medicine in Boston. "It's a sign of a shift toward more cautious opioid prescribing. This will be an inconvenience to some, but policy is a machete not a scalpel and you have to figure out where to use it. I think people will be more helped than harmed," he told the New York Times.
But Dr. John Mendelson, a professor of medicine at the University of California-San Francisco, and an addiction specialist, told the Times he thought the change would lead to an increase in prescriptions of other drugs such as oxycodone, and a rise in the use of heroin.
Other pain management experts have yet to offer opinions, but there is likely to be criticism that the move will create more obstacles for chronic pain sufferers, including those who have problems making it to the doctor's office for a visit to get a prescription written. As many as 100 million Americans suffer from chronic pain, according to a 2011 study from the Institute of Medicine.