A new Pew Research poll has some surprising and heartening results, Madison (WI) says legalize it, Wisconsin passes a CBD medical marijuana bill, misbehaving cops get noticed, the Russians are griping about the Aghan poppy crop again, and more. Let's get to it: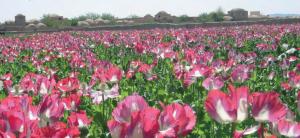 Marijuana Policy
Dane County (Madison), Wisconsin, Voters Say Legalize It. Voters in Dane County approved a non-binding advisory referendum calling on legislators to legalize marijuana in the land of the Cheese Heads. The referendum passed with 64.5% of the vote.
Medical Marijuana
Missouri Senate Panel Holds Hearing on Medical Marijuana Bill. The Senate General Laws Committee heard testimony on a medical marijuana bill Tuesday, but took no action. The measure, Senate Bill 951, is not expected to pass this session.
Wisconsin CBD Medical Marijuana Bill Passes Legislature. The Wisconsin legislature has approved a CBD medical marijuana bill. Assembly Bill 726 passed the Senate Tuesday, the last day of the legislative session. It had already passed the Assembly.
Drug Policy
Pew Poll Finds Tectonic Shift Underway on Drug Policy. A new Pew Research Center poll finds that the public is ready for a truce in America's long-running drug war. Two-thirds favored treatment over jail for heroin and cocaine users and strong majorities said that alcohol was more harmful than marijuana. Click on the link for full poll results, or read our feature story on it in this issue.
Prescription Drugs
US Senator Calls on DEA to Implement Prescription Drug Take Back Program. Sen. Amy Klobuchar (D-MN) took to the Senate floor Tuesday to press the DEA to implement a 2010 law based on bipartisan legislation she sponsored. The law expands drug take back programs. "Prescription drug abuse has reached crisis levels and is leading to a spike in heroin abuse as well, and we should spare no effort to reverse this deadly trend," Klobuchar said. "My drug take back law will help keep drugs out of the wrong hands and prevent prescription drug abuse as well as heroin abuse. The Administration needs to implement this common sense law so that we can give families new tools to help fight this devastating epidemic." No word yet on any DEA response.
Law Enforcement
Minnesota Occupy Activists Given Drugs By Cops Can Sue, Judge Rules. In a bizarre story out of Minneapolis, a federal judge has ruled that Occupy activists plied with marijuana by Minnesota police doing a drug identification training exercise during the protests can sue. Law enforcement agencies that employed the officers involved had filed a motion to throw out the case, but US District Court Judge John Tunheim rejected the motion, noting that "in light of the clear prohibition on providing illicit drugs to citizens," the agencies "are not entitled to the protection of qualified immunity." Click on the link for all the weird details.
Lawsuit Charges Corruption, Harassment Among Alabama Narcs. A former Walker County deputy who worked for the department's Narcotics Enforcement Team before he was fired has filed a lawsuit against the county and the sheriff charging he was fired for cooperating in an FBI investigation of his boss, who killed himself after stealing drug money to pay personal bills and support his mistress. Click on the link for all the sordid details.
International
Russian Drug Czar Charges NATO Doesn't Care About Afghan Drug Production. NATO's decision to phase out cooperation with Russia in training anti-drug officers for Afghanistan reveals the alliance's unwillingness to really combat drug production in this country, Viktor Ivanov, the chief of the Russian Federal Drug Control Service, told Interfax on Wednesday. "This is not surprising. What could you have expected from NATO?" Ivanov said. "NATO has long been pursuing a policy aimed at the presence of its military component in Afghanistan. Now they are pulling out of this country, leaving massive drug production there," Ivanov said. Afghanistan accounts for nearly 90% of the world's illicit opium production, according to the UN.