All of New England is now medical marijuana territory, as New Hampshire Gov. Maggie Hassan (D) Tuesday afternoon signed into law a bill allowing it in the Granite State.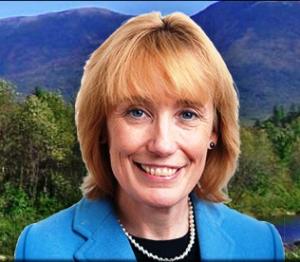 "Allowing doctors to provide relief to patients through the use of appropriately regulated and dispensed medical marijuana is the compassionate and right policy for the state of New Hampshire, and this legislation ensures that we approach this policy in the right way with measures to prevent abuse," Hassan said in a
signing statement
.
"By providing strong regulatory oversight and clear dispensing guidelines, this bill addresses many of the concerns that were expressed throughout the legislative process," she continued. "House Bill 573 legalizes the use of medical marijuana in a way that makes sense for the State of New Hampshire and gives health providers another option to help New Hampshire's seriously ill patients."
"This legislation is long overdue and comes as a relief to the many seriously ill patients throughout New Hampshire who will benefit from safe access to medical marijuana," said Matt Simon, a New Hampshire-based legislative analyst for the Marijuana Policy Project. "Those suffering from debilitating conditions like cancer and multiple sclerosis deserve legal, safe, and reliable access to medical marijuana."
Sponsored by state Rep. Donna Schlachman (D-Exeter), the new law will allow residents with certain debilitating illnesses, such as cancer, multiple sclerosis, and HIV/AIDS, to use medical marijuana if their doctors recommend it. Patients will be able to obtain marijuana through one of four nonprofit, state-licensed alternative treatment centers -- but not grow it themselves.
Language that would have allowed patients to grow their own was removed from the bill in the Senate at Gov. Hassan's request after the bill had already passed the House. Hassan cited law enforcement concerns about diversion.
"The vast majority of Americans recognize the medical benefits of marijuana and believe people with serious illnesses should have safe and legal access to it," Simon said. "We applaud our elected officials for enacting a law to protect patients, and we hope legislators in other states will follow suit."
Nineteen states and the District of Columbia now have medical marijuana laws. Illinois could be number 20; a bill passed the legislature there in May and awaits the governor's signature.
[For extensive information about the medical marijuana debate, presented in a neutral format, visit MedicalMarijuana.ProCon.org.]