Kentucky state Senator Perry Clark (D-Louisville) is no quitter. Thwarted twice before in efforts to get a medical marijuana bill moving in Frankfort, Clark and supporters are gearing up for another try, and they hope the third time is the charm.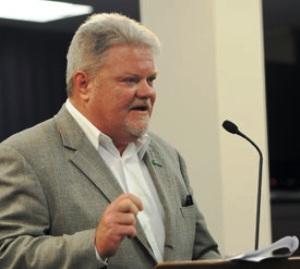 Last Thursday,
Clark hosted medical marijuana supporters at his home
to revive the effort, and dozens showed up to rally in anticipation of a hearing next month before the Health and Welfare Committee. Although Clark's 2013 bill is officially dead, he will introduce a new bill for next year, and the hearing will proceed.
"I am about getting access to natural medicine and compassionate medicine to as many Kentuckians as I can get that to," Clark said, adding that he suffers from back pain and believes marijuana is the best medicine for him. "The doctor has recommended that I take medicinal marijuana, and so has a therapeutic professional."
"I will not stop advocating for this bill," said Erin Grossman, who suffers from a nerve disorder. "We're advocating for safe access, safe medicine for Kentuckians."
Clark said Kentuckians need to reach out to their elected officials. "What is important is that you talk to your senator, your representative, to break the taboo," he urged.
Supporters have organized themselves into a group, Kentuckians for Medicinal Marijuana, and they used the Thursday meeting to announce that Irvin Rosenfeld, one of handful of people approved to use medical marijuana under a now long-defunct federal program, will address the August hearing.
Three days later, Clark and Kentuckians for Medicinal Marijuana held a rally in Louisville to drum up more support. "Honk if you support medical marijuana" signs frequently got the desired response from passersby, and Clark told the crowd that while the path to passing the bill was arduous, they were making progress.
"The first time, it wasn't going to get a hearing because it was very short notice," he said. "The second time, it languished around for a long time, but we've never had a hearing. When you get the hearings, people begin to understand that this not just a bunch of fringe people talking about marijuana, this is mainline thinking now, this is where we're going."
[For extensive information about the medical marijuana debate, presented in a neutral format, visit MedicalMarijuana.ProCon.org.]