A 26-year-old Jamaican who has resided in the US since he was three should not automatically be deported for being caught with a small amount of marijuana, the US Supreme Court ruled Tuesday. The case was Moncrieffe v. Holder.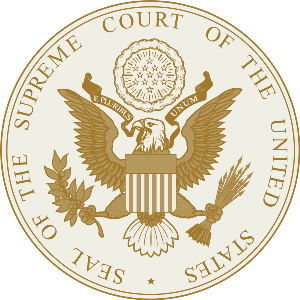 In that case, Adrien Moncrieffe was caught with 1.3 grams of marijuana when police in Georgia pulled him over for a traffic stop. He pleaded guilty to possession with intent to distribute in a plea bargain in which the state of Georgia agreed to expunge the charges after he served five years' probation.
But a federal immigration judge ruled that the plea bargain made Moncrieffe deportable as an "aggravated felon." While federal law considers possession of small amounts of weed a misdemeanor, federal officials argued that his plea was to an offense analogous to a federal felony and thus calling for automatic deportation under federal immigration law. With the lesser offense, Moncrieffe might potentially face deportation, but the government would not have to seek it and Moncrieffe could make his case before a judge if it did.
The US 5th Circuit Court of Appeals in New Orleans upheld the immigration judge's ruling, but the Supreme Court accepted the case for review last year. On Tuesday, seven justices agreed that Moncrieffe's conviction did not rise to the level of a drug trafficking offense that triggered the aggravated felony classification for deportation under the Immigration and Nationality Act (INA).
"Moncrieffe's conviction could correspond to either the CSA [Controlled Substances Act] felony or the CSA misdemeanor," Justice Sonia Sotomayor wrote for the majority. "Ambiguity on this point means that the conviction did not 'necessarily' involve facts that correspond to an offense punishable as a felony under the CSA. Under the categorical approach, then, Moncrieffe was not convicted of an aggravated felony."
Although federal prosecutors had argued that any marijuana distribution conviction (even intending to distribute one gram) is "presumptively" a felony, Sotomayor and the other six justices weren't buying that.
"That is simply incorrect, and the government's argument collapses as a result," Sotomayor wrote. "Marijuana distribution is neither a felony nor a misdemeanor until we know whether the conditions in paragraph (4) attach."
That paragraph lists exceptions to the offense of marijuana distribution that allow defendants to be considered misdemeanor "simple drug possessors."
To follow prosecutors' logic, Sotomayor argued, "would render even an undisputed misdemeanor an aggravated felony. Recognizing that its approach leads to consequences Congress could not have intended, the government hedges its argument by proposing a remedy: Non-citizens should be given an opportunity during immigration proceedings to demonstrate that their predicate marijuana distribution convictions involved only a small amount of marijuana and no remuneration, just as a federal criminal defendant could do at sentencing," she wrote.
But that approach was "entirely inconsistent with both the INA's text and the categorical approach," Sotomayor stressed. "The government cites no statutory authority for such case-specific fact finding in immigration court, and none is apparent in the INA. Indeed, the government's main categorical argument would seem to preclude this inquiry: If the government were correct that 'the fact of a marijuana-distribution conviction alone constitutes a CSA felony,' then all marijuana distribution convictions would categorically be convictions of the drug trafficking aggravated felony, mandatory deportation would follow under the statute, and there would be no room for the government's follow-on fact finding procedure. The government cannot have it both ways."
And the government's approach would lead to a litany of "absurd consequences that would flow from" immigration investigations into such offenses. "That the only cure is worse than the disease suggests the government is simply wrong," she wrote.
Only Justices Clarence Thomas and Samuel Alito dissented, with Thomas arguing that since Georgia punished Moncrieffe's offense as a felony, he should be deportable under the CSA, and Alito warning that the majority had just given a free ride to "drug traffickers in about half the states."
"In those states," Alito wrote in his dissent, "even if an alien is convicted of possessing tons of marijuana with the intent to distribute, the alien is eligible to remain in this country. Large-scale marijuana distribution is a major source of income for some of the world's most dangerous drug cartels, but the court now holds that an alien convicted of participating in such activity may petition to remain in this country."
Of course, Moncrieffe was not convicted of "large-scale marijuana trafficking" and was not a member of one of "the world's most dangerous drug cartels;" he was a guy busted with a couple of joints worth of weed. And the government may still be able to deport people in Moncrieffe's situation, but now they will have to make the case for deportation before a judge.