In a report released Wednesday, the Government Accountability Office (GAO) found that growth in the federal prison population is outstripping the Bureau of Prisons' (BOP) rated capacity to house prisoners and that the bulge in federal prisoners is largely attributable to drug prisoners and longer sentences for them. That growing inmate overcrowding negatively affects inmates, staff, and BOP infrastructure, the GAO said.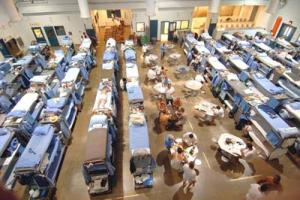 The federal prison population increased 9.5% from Fiscal Year 2006 through FY 2011, exceeding a 7% increase in rated capacity. Although BOP increased the number of available beds by 8,300 during that period by opening five new facilities (and closing four minimum security camps), the number of prisons where overcrowding is occurring increased from 36% to 39%, with BOP forecasting overcrowding increasing to encompass 45% of prisons through 2018.
The drug war and harsh federal drug sentencing are the main drivers of the swelling federal prison population. The GAO reported that 48% of federal prisoners were drug offenders last year, and that the average sentence length for federal drug prisoners is now 2 ½ times longer than before federal anti-drug legislation passed in the mid-1980s.There are also now more than 100,000 federal drug prisoners, more than the total number of federal prisoners as recently as 20 years ago.
The negative effects of federal prison overcrowding include "increased use of double and triple bunking, waiting lists for education and drug treatment programs, limited meaningful work opportunities, and increased inmate-to-staff ratios," the report found. All of those "contribute to increased inmate misconduct, which negatively affects the safety and security of inmates and staff." The report also noted that "BOP officials and union representatives voiced concerns about a serious incident [read: riot] occurring."
For this report, the GAO also examined prison populations in five states and actions those states have taken to reduce populations. It found that the states "have modified criminal statutes and sentencing, relocated inmates to local facilities, and provided inmates with additional opportunities for early release."
Noting that the BOP does not have the authority to modify sentences or sentencing, it nevertheless identified possible means for Congress to address federal prison overcrowding. It could reduce inmate populations by reforming sentencing laws or it could increase capacity by building more prisons, or some combination of the two.
Or it could remove drug control from the ambit of criminal justice altogether and treat the use and distribution of currently illegal drugs as a public health problem.