Oklahoma Gov. Mary Fallin (R) last Thursday signed into law a bill designed to lower the state's prison population. The state's incarceration rate is first in the nation for female prisoners and third highest for males.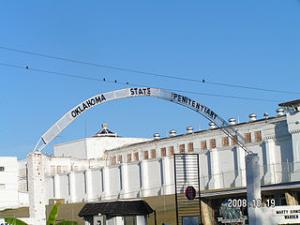 The bill,
House Bill 3052
, is expected to control the increase in prison growth by increasing substance abuse treatment, reducing violent crime, strengthening supervision, and reducing recidivism. The aim is to reduce prison costs, which have risen 41% in the past decade, while the prison population increased 15% and violent crime decreased 4%.
The bill requires substance abuse and mental health screening of defendants before they are sentenced so those who need treatment will be able to access it. It also requires that all freed prisoners do at least nine months of parole in a bid to reduce recidivism. And it provides for "intermediate revocation facilities" for parole and probation violators short of sending them back to prison. A measure that would have effectively reduced some sentences by allowing good time to accrue from the beginning of the sentence was dropped in the face of legislative opposition.
"Increasing public safety is a top priority of my administration and a primary function of state government. The reforms in HB 3052 will help to reduce crime and ensure our streets are safer for Oklahoma families," Fallin said in a
signing statement
. "In addition to lowering crime rates, reducing the incarceration rate and giving law enforcement more resources to fight crime, this bill will help us to save taxpayer dollars by helping our corrections system operate in a more efficient and effective way."
The bill was the result of years of effort by House Speaker Kris Steele (R-Shawnee) and Senate President Pro Tem Brian Bingman (R-Sapulpa), who shepherded it through the legislature. It came as part of the
Oklahoma Justice Reinvestment
initiative, a project of the Council of State Governments' Justice Center designed to enact "smart on crime" policies.
"Today marks the beginning of a tougher, smarter fight against crime," said Steele. "Police will get more resources, offenders will be held more accountable, prisons will have the space to incarcerate dangerous criminals and Oklahoma will be much safer as a result. We're thrilled to have been part of the unprecedented collaboration across our entire criminal justice system that has delivered this meaningful law to the people of Oklahoma."
"We've made a historic public safety reform that puts Oklahoma's broken criminal justice system back on a sustainable path," said Bingman. "By being both tough on crime and fiscally conservative, this law will reduce violent crime, give crime fighters the tools to do their job and ensure our criminal justice system keeps Oklahoma families and communities safe."
The new law goes into effect November 1.