Four US representatives introduced an amendment to the Justice Department appropriations bill, House Resolution 5326, which would bar the agency from spending funds to attack medical marijuana operations in states where it is legal. The bill was being considered Wednesday, before failing on a voice vote Wednesday evening.

A roll call vote was taken later, with the amendment failing 163-262 -- 50 Democrats opposed it and 28 Republicans supported it. While the total number of "ayes" was almost identical to the last time the amendment was offered several years ago, that reflects the larger number of Republicans in the House. Both Democrats and Republicans voted for the amendment in greater percentages than in the past. [Ed: We will publish analysis of the voting breakdown this week.]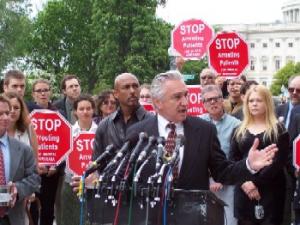 The House heard Reps. Barney Frank (D-MA), Maurice Hinchey (D-NY), Dana Rohrabacher (R-CA), Jerold Nadler (D-NY), and Steve Cohen (D-TN) speak in favor of the amendment, while the most notable opposition came from committee Chairman Frank Wolf (R-VA).
Hinchey was a cosponsor of the amendment, as was Rohrabacher, of Huntington Beach, and his California colleagues Reps. amie Farr (D-Carmel) and Tom McClintock (R-Auburn).
As a presidential candidate, then-Senator Obama said his administration would not use its resources to undermine state medical marijuana laws, especially if people were following their state's law. At first, the administration lived up to his word. Shortly after he was elected president, the Department of Justice issued a memorandum to US Attorneys urging them not to waste taxpayer dollars and law enforcement resources arresting and prosecuting people following their state's medical marijuana law.
But according to the medical marijuana defense group
Americans for Safe Access
, the DEA has undertaken more than 200 raids against medical marijuana dispensaries and associated businesses since it took office in 2009, with most of them coming in the past year. Beginning in March 2011 with raids on dispensaries across Montana, the Justice Department has shifted its stance on medical marijuana, becoming much more aggressive in enforcing federal law.
It's not just the DEA. Federal prosecutors in dispensary states, such as California, Colorado, and Montana, have also been aggressively targeting medical marijuana operations. They typically try to intimidate dispensary operators and/or their landlords in voluntarily closing their doors by issuing threat letters in which they warn that operators and/or landlords could face civil asset forfeiture or even criminal prosecution if they do not comply.
The threat letters are based on arbitrary standards having nothing to do with state medical marijuana laws. Instead, federal prosecutors typically allege that targeted dispensaries are within 1,000 feet of a school or playground. There is no federal law disallowing dispensaries in those areas, but there is a federal sentencing enhancement for drug law violations within them, and federal prosecutors are using that statute as a measuring rod for deciding which dispensaries to pick on.
The federal crackdown has, to some extent, worked. The Montana medical marijuana distribution scene was all but wiped out by federal raids and prosecutions, dozens of dispensaries have been forced out of business in Colorado, and more than 200 have closed in California.
But medical marijuana supporters and advocates have been mobilizing their forces, too. The crackdown has been criticized by House Minority Leader Nancy Pelosi (D-CA) and drug reform friend Rep. Barney Frank (D-MA), as well as elected officials in all three states and local Democratic Party organizations in the San Francisco Bay area.
And this week, the fight came to the House.
"It is time for the federal government to stop targeting the legal vendors that are providing safe access to this treatment, and instead focus limited resources on those who sell illicit drugs," Farr said in a statement. "The amendment I will offer with my colleagues will work to assure funds under the Department of Justice do not target the safe access to treatment patients need."
A plethora of medical marijuana and drug reform groups and even labor unions were mobilizing their members to contact Congress this week in a bid to show popular support for reining in the feds. Among them was the
Drug Policy Alliance
.
"Both Democrats and Republicans are telling the Obama administration: enough is enough, stop wasting taxpayer money to undermine state medical marijuana laws, said Bill Piper, the group's director of national affairs. "President Obama needs to realize his assault on patient access is not just immoral -- but a serious political miscalculation. For more than a decade, polling has consistently shown that 70% to 80% of Americans support medical marijuana."
For the United Food and Commercial Workers (UFCW), which represents dispensary workers in California and Colorado, smothering the federal crackdown is not just about compassion, it's about jobs and the economy.
"The UFCW supports the Hinchey-Rohrabacher amendment," the group said in a statement Wednesday. "Medical marijuana laws have been enacted to allow patients safe and legal access to appropriately produced and compliantly dispensed medical marijuana in the safest possible environment and UFCW members in the medical cannabis industry work in accordance with state laws to provide safe and effective medical treatment for persons suffering from cancer and other serious medical conditions.
"At a time when millions of hardworking Americans are out of work and still struggling to make ends meet, the use of taxpayer money for the misguided targeting and prosecution of an industry that provides Americans with good middle class jobs with benefits is counterproductive. The US Justice Department should not use the fewer resources it has to focus on targeting patients and dispensaries abiding by state law. That is a problem that the Hinchey-Rohrabacher Amendment will solve and the UFCW wholeheartedly supports it," the union said.
The political calculus behind the Obama administration's crackdown on medical marijuana is unclear. What is certain is that the opposition to it is broad and cuts across party lines.
"History is calling on President Obama to protect terminally ill patients from suffering, and he is dangerously close to falling on the wrong side," said Piper. "He will continue to pay a political price as long as his administration continues to waste taxpayer money undermining state law."
The Obama administration may have won a victory Wednesday night, but even victories come with a cost.