One week after being rolled out in southern border cannabis cafes, the conservative Dutch government's effort to restrict foreigners from the coffee shops by making them members-only and requiring a "weed pass" for entry is off to a rocky start.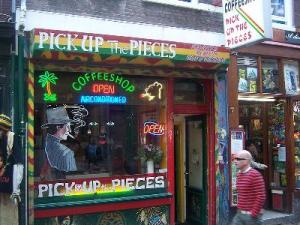 The plan was met last week with street protests and civil disobedience in Maastricht, and this week, numerous coffee shops remain closed there in protest. Meanwhile, the largely Belgian and German "drug tourists" at whom the ban is aimed have responded by simply driving further into Holland to buy their marijuana since the ban is only in place on the border.
Even Dutch police seem less than enthused. Police in Eindhoven said they were still undergoing training on how to check for weed passes, while police in other border towns, such as Den Bosch, Oss, and Uden told
Agence France-Presse
"cannabis controls are not a priority."
"It takes time to put everything in place," conceded Justice and Safety Ministry spokeswoman Charlotte Menten.
Police in Maastricht, the largest city now living under the weed pass regime, have taken a tougher line, shutting down Marc Josemann's Easy Going cannabis café after he flouted the law by selling to foreigners, but at least 14 more cannabis cafes there have also shut down to protest the law as discriminatory and bad for business.
Before flouting the law by selling to foreigners, Josemann's first obeyed the law, refusing to sell to some foreigners, who then, in accordance with his wishes, filed a discrimination against him with local authorities. That complaint became the basis of Josemann's ongoing legal challenge to the law.
"Now, we're going to court," Josemanns told AFP. "We were only waiting for one thing: the municipality to close us down."
Villem Vugs, head of the coffee shop association in Tilburg said that problems blamed on drug tourism -- traffic jams, rowdiness, street dealing -- were largely a Maastricht problem. "The government wants to implement a nationwide solution to address a local problem in Maastricht," he complained. There is "little or no nuisance" from the trade in his city, he added.
The weed pass plan is supposed to go into effect nationwide next year, affecting all 670 cannabis coffee shops in the county, but right now, it only affects 80 cafes in the south. There, the cannabis cafes are only supposed to sell to Dutch residents who have signed up for the weed pass.
Now, the foreign drug tourists are showing up further in the Dutch interior, in cities such as Nijmengen, about 90 miles from Maastricht.
"In recent days, we are spotting cars with Belgian plates in the city center, who are clearly there for the coffee shops," Nijmegen police spokeswoman Florian Vingerhoeds told AFP. "Before, we never saw Belgian plates."