The Connecticut House Monday passed a bill to strengthen the state's 12-year-old racial profiling reporting, which some senators said was not being followed by police. The bill, Senate Bill 364, passed the Senate last month. Gov. Dannel Malloy (D) said in statement Monday he would sign it into law.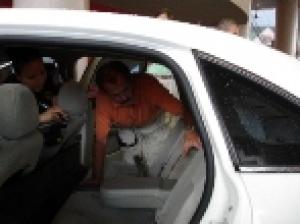 ]"More than 10 years ago, as the mayor of Stamford, I was proud to stand with the men and women of the Stamford Police Department on Martin Luther King Day to announce that we did not tolerate racial profiling and would lead the efforts to ensure its elimination. As governor, I will continue to insist that every effort is taken to protect individual rights in every community and that racial profiling is eliminated," Malloy said. "This is a real problem that deserves a real solution, and my administration is committed to carrying out the spirit and letter of this law. I look forward to signing the bill when it arrives at my desk."
The original racial profiling law was pushed by then-Senator Alvin Penn, who spoke out loudly against the practice. Penn said he himself had been stopped by police for no reason except for his skin color. Penn died of pancreatic cancer in 2003.
That law required police departments to report on each traffic stop, noting the driver's race and the reason for the stop. In the first six months the law was in effect, police wrote 315,000 reports, and a 2001 study of those reports found that blacks accounted for only 8% of the state's population, but 12% of the traffic stops.
Still, the state's top prosecutor said at the time that the numbers did not suggest racial profiling.
"We did not find a pattern of racial profiling,'' said then Chief State's Attorney John M. Bailey. "Minority drivers do not appear to be treated systematically any different than non-minority drivers.''
In the decade since then, the issue has quietly festered while police departments quietly quit reporting. According to Senate Democrats, only 27 of the state's 92 police departments are complying with the law.
Last month, the head of the Connecticut Police Chiefs Association, Douglas Fuchs, told the
Hartford Courant
that most departments were complying with the law. He added that racial profiling data does not "accurately portray how Connecticut law enforcement across the state conducts business,'' although he did not explain why not.
But former state Rep. Michael Lawlor, who is now Gov. Malloy's (D) chief criminal justice advisor, disagreed. "The fact of racial profiling is very real. Almost every African-American has a story like that [of profiling], and very few white people do. It's real.''
Senate President Pro Tem Donald Williams (D) also disagreed, saying, "Racial profiling is a problem in Connecticut and throughout the United States… It's time to strengthen' the law."
Malloy said his administration hadn't waited for the law to pass to start working on its provisions.
"Our administration has already begun taking some of the steps required under the legislation," he said. "Last year, I instructed the Office of Policy and Management, with the help of Central Connecticut State University, to create the advisory group called for in the bill, and they have begun to develop standardized methods and guidelines to improve collection of racial profiling data."