The New Hampshire House barely passed a marijuana decriminalization bill last Thursday. The bill squeaked by on a 162-161 vote, not enough to overcome a threatened veto by Gov. John Lynch (D).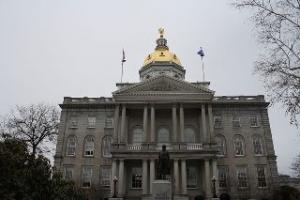 Supporters were able to win passage only after Republican House Speaker Bill O'Brien abstained, allowing the one-vote victory.
The bill,
House Bill 1526
, would make possession of less than a half-ounce of marijuana a civil infraction for the first and second offenses, with fines capped at $250 and $500, respectively. Subsequent offenses would be misdemeanors punishable by up to a year in jail and a $1,000 fine. Current law specifies up to a year in jail and a $2,000 fine for any simple marijuana possession offense.
The bill is "a measured and calculated reduction in penalties," wrote Rep. Kyle Tasker (R-Nottingham) in a report on the measure he wrote for the Criminal Justice Committee, which earlier approved it. It has worked well in neighboring states that have adopted it, he added.
But Gov. Lynch has promised to veto the measure if it makes it past the Senate.
"Marijuana is a controlled drug that remains illegal under federal law. New Hampshire parents are working to keep their kids away from marijuana and other drugs. We should not make the jobs of parents -- or law enforcement -- harder by sending a false message that some marijuana use is acceptable," Lynch spokesman Colin Manning told the
Associated Press
after the vote.
Fourteen states have decriminalized marijuana possession, including New Hampshire neighbors Massachusetts, Maine, and Connecticut.