A bill that would legalize the possession of and commerce in marijuana got a hearing at the Massachusetts legislature's Joint Committee on the Judiciary Tuesday. While even the bill's sponsor conceded it was unlikely to pass, it helps lay the groundwork for a proposed marijuana legalization initiative down the line.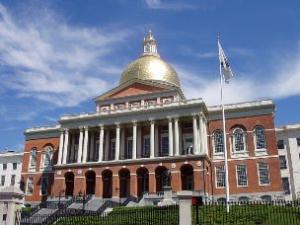 Marijuana possession was decriminalized by popular vote in 2008, but people can still be fined and have their marijuana seized, and marijuana commerce remains illegal.
The bill,
House Bill 1371
, sponsored by Rep. Ellen Story (D-Amherst), would legalize marijuana and "establish a tax on the cannabis industry."
"The state needs to make money," Story told her colleagues in the committee. "This would allow the state to benefit from marijuana by regulating it."
Story said she decided to sponsor the bill after a non-binding resolution to legalize marijuana won the approval of 70% of her constituents in the 2010 municipal elections.
"There are a number of legislators who said to me privately that they think it is an excellent idea, but they are nervous about saying it publicly," Story said. "Nobody wants to be seen as soft on drugs."
But some committee members were skeptical.
"If it's OK with marijuana, should we legalize cocaine and LSD?" asked Rep. Sheila Harrington. "I'm not sure that the justification is people are breaking the law all the time and we should just open it up."
Also testifying was Suffolk University senior and campus
NORML
head Sean McSoley. He related how he was stabbed six times on Boston Commons by men who wanted to take his bag of weed.
"There is nothing about marijuana that makes people violent," he said. "The prohibition is the reason for the crime surrounding marijuana and not the plant itself. This would have never happened if it were a pack of cigarettes or a six pack of beer," he said. "By legalizing this plant, these incentives to rob and kill would no longer exist."
Professional anti-reform activist Kevin Sabet, this time wearing the cap of the Massachusetts Prevention Alliance, testified that the bill was unnecessary, it would increase drugged driving accidents, and it would cause mental health issues.
"There's no need for legalization," Sabet said. "No one's going to jail for small amounts. If we're worried about Big Tobacco, we need to be worried about Big Marijuana because they're going to be coming up right behind them."
No vote was taken and the bill remains in committee.