A South Carolina man was shot dead and a Kershaw County sheriff's deputy injured during a narcotics investigation traffic stop that turned violent last Tuesday night. Melvin Lawhorn, 26, becomes the 13th person to die in US domestic drug law enforcement operations so far this year.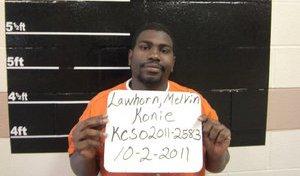 According to Kershaw County Sheriff Jim Matthews
, narcotics officers were surveilling Lawhorn and Darryl Herbert, 52, after receiving a tip that Lawhorn would be picking up a large amount of drugs. Officers pulled over a pick-up truck driven by Herbert, and while the vehicle was stopped, Lawhorn stepped on the gas pedal. One of the deputies tried to stop the vehicle, but the truck ran over his foot and leg and dragged him.
While being dragged, the deputy shot Lawhorn under the arm, fatally wounding him. A patrol car then rammed the pick-up, bringing it to a halt. The sheriff said the deputy was dragged about 120 feet. He had tire tracks up his boot and leg, Matthews said. He was treated at a nearby hospital for torn ligaments and abrasions, then released.
After the incident, Herbert was arrested for DUI and failure to stop by state Highway Patrol officers.
The South Carolina State Law Enforcement Division (SLED) has taken over the shooting investigation. Sheriff Matthews said a SLED investigator recovered an ounce of suspected cocaine from the pick-up.
It is unclear exactly how the deputy managed to shoot Lawhorn while being dragged beneath the vehicle.