Rhode Island Gov. Lincoln Chafee (I) last Tuesday signed into law a decriminalization bill passed by the state legislature. Rhode Island now becomes the 15th state to have decriminalized the possession of small amounts of marijuana.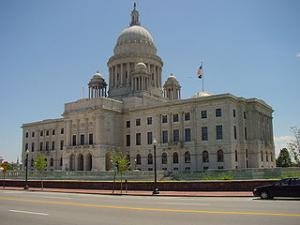 Rhode Island now joins its its northeastern neighbors Connecticut, Maine, Massachusetts, New York, and Pennsylvania is choosing to remove criminal penalties for possession of small amounts of pot. Nationwide,
14 other states have decriminalized
, the first wave in the 1970s and the second beginning with Nevada in 2001 and picking up momentum in recent years.
The measure,
Senate Bill 2253
, makes the possession of up to an ounce of marijuana a civil offense punishable by a fine of $150 for most offenses. Under current Rhode Island law, pot possession is a misdemeanor punishable by up to a year in jail and a $500 fine.
"Gov. Chafee's signature is the culmination of a years long effort to put some common sense back in our marijuana laws," said Sen. Josh Miller (D-Cranston), lead Senate sponsor. "Rhode Island will now address marijuana use among our youths with education and treatment, as opposed to incarceration, increasing our chances of stemming the abuse of drugs and alcohol."
"This change means that a youthful indiscretion will no longer prevent a responsible adult from finding gainful employment," said Rep. John Edwards (D-Portsmouth, Tiverton), lead sponsor in the House. "A dumb mistake can no longer be used as grounds for withholding federal student aid or jeopardizing future employment. Everyone in Rhode Island benefits from this change in law."
"Gov. Chafee's approval is yet another concrete example of the mainstream support for sensible marijuana policy reform. Two-thirds of the Rhode Island public supports this proposal, as does more than two-thirds of the Rhode Island General Assembly. Support for marijuana policy reform is real and growing every day. I commend Gov. Chafee and his team for supporting policy that is both popular and reasonable," said Robert Capecchi, legislative analyst with the
Marijuana Policy Project
(MPP). MPP led the lobbying and grassroots effort in support of the legislation.
The law will go into effect April 1, 2013.