In conference committee votes as the legislative session ticked down Wednesday, the New Hampshire House and Senate gave final approval to a medical marijuana bill, Senate Bill 409, and sent it to Gov. John Lynch (D). Lynch earlier this year indicated he will veto the bill.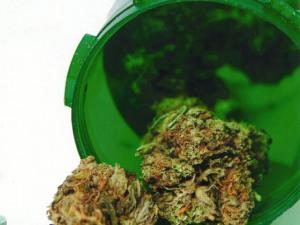 That has bill supporters scrambling to come up with a veto-proof majority or to persuade Lynch to change his mind. They need 16 Senate votes to override, but only got 13 on Wednesday's vote. (One bill sponsor was absent.) The House overwhelmingly approved the medical marijuana bill earlier this year.
"Most senators now agree we have a moral obligation to protect seriously ill patients from being arrested in our state," said Sen. Jim Forsyther (R-Stafford), who vowed to continue to seek additional support in the Senate for an override if necessary. "There is no excuse for maintaining criminal penalties against patients in our state when Vermont, Maine, and 15 other states have created exceptions under state law for medical use. New Hampshire truly deserves better, and if there's any way to get SB 409 passed into law, I will continue doing my best to make that happen."
"Over the years, we have convinced many legislators to support this critical reform," said Rep. Evalyn Merrick (D-Lancaster), a cancer survivor who credits medical marijuana with easing her struggle. "With support either from Gov. Lynch or from two additional senators, this bill can finally pass and patients will finally have legal access to medical marijuana."
"SB 409 has earned strong support in both the House and Senate, and soon Gov.Lynch will have an opportunity to do the right thing and sign it into law," added Matt Simon, a legislative analyst for the
Marijuana Policy Project
.
Now, it's all eyes on the governor.