House Minority Leader Nancy Pelosi told a bloggers' roundtable Wednesday that Democrats might be interested in making changes in federal law around medical marijuana after the November elections, Raw Story reported.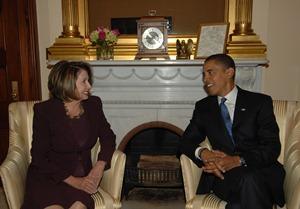 "I've been very clear on the subject of medical marijuana over time, in committee and on the floor as leader," Pelosi said. "I think that it would be really important to do that," she said.
"It would be hard for anyone to agree with the fact that someone who has HIV/AIDS or has cancer and they find relief from pain in medicinal marijuana that should be something that should be a priority to raid on the part of the Justice Department. Going along with that, we need to address some of the penalties for any nonviolent crimes that are out there."
Pelosi has previously attacked the Obama administration for the Justice Department's campaign of raids and threats against California medical marijuana providers, but this is her strongest statement yet on the topic.
Federal law and the Justice Department do not recognize medical marijuana, but there are options short of revising the Controlled Substance Act that could bring relief. The Justice Department could be persuaded to go back to the policy it adopted early in the Obama administration of not going after providers in compliance with state laws, or the administration could reschedule marijuana.
Another possibility is a ban on federal spending for raids on state-sanctioned medical marijuana facilities. But a bill that would do that was defeated in the House in May. A third alternative is for the administration to simply use its executive authority to reschedule marijuana for prescription availability under the Controlled Substances Act.
"Medical marijuana is one of those issues where if you get enough states, where when you get enough then you get it," Farr told Raw Story. "California had already started that process because of cost concerns. That didn't cause any scandals or upheavals."
Whether Pelosi's words will lead to any real change remains to be seen, but the most powerful Democrat in the House has just put the administration on notice that she's not happy with its medical marijuana policies.