Singapore, once famously called "Disneyland with the death penalty" by author William Gibson, will move to relax the imposition of mandatory death sentences for drug traffickers. The wealthy Southeast Asian city-state's deputy prime minister said Monday the government will produce a draft law by year's end that will give judges more discretion in some drug trafficking and murder cases, Reuters reported.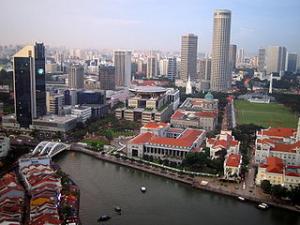 Singapore, which was been ruled by the same party since 1965, is a notoriously crime-averse society that subjects even minor offenders to punishments including caning. It has a zero-tolerance policy toward drugs. Amnesty International and other human rights groups estimate it has hanged hundreds of people, including dozens of foreigners, for drug offenses since 1990.
Singapore has a mandatory death sentence for anyone found guilty of importing, exporting or trafficking in more than 500 grams of cannabis, 200 grams of cannabis resin or more than 1,000 grams of cannabis mixture; trafficking in more than 30 grams of cocaine; trafficking in more than 15 grams of heroin; and trafficking in excess of 250 grams of methamphetamine The mandatory death penalty for drugs was introduced in a 1975 Amendment to the Misuse of Drugs Act 1973 and was subsequently broadened.
But given the evolution of "our society's norms and expectations," the government will introduce the reforms, Deputy Prime Minister Teo Chee Hean told parliament. "While there is a broad acceptance that we should be tough on drugs and crime, there is also increased expectation that where appropriate, more sentencing discretion should be vested in the courts."
But not too much discretion. Escape from the mandatory death penalty would only be available to low-level couriers or those who have mental issues, Teo explained. The drug courier would have to show that he had no other role in supply or distribution.
"We also propose to give the courts the discretion to spare a drug courier from the death penalty if he has a mental disability which substantially impairs his appreciation of the gravity of the act, and instead sentence him to life imprisonment with caning," Teo said.
It's not that the government is going soft, Teo emphasized. "In particular, the mandatory death penalty will continue to apply to all those who manufacture or traffic in drugs -- the kingpins, producers, distributors, retailers - and also those who fund, organize or abet these activities," he said.
In 2010, the
International Harm Reduction Association's Death Penalty Project
identified Singapore as one of the nations highly committed to the use of the death penalty for drug offenses. Also included in that category are China, Iran, Saudi Arabia, Vietnam, and Malaysia. Another 26 countries, including the US, either actually execute some drug offenders or have laws on the books allowing for their execution.
But Singapore has been slowly shifting. While its customs forms still bluntly warn incoming travelers of "death for drug traffickers," the government has suspended all executions since it began a review last year.
Perhaps those other "highly committed" drug offense death penalty states will take notice.